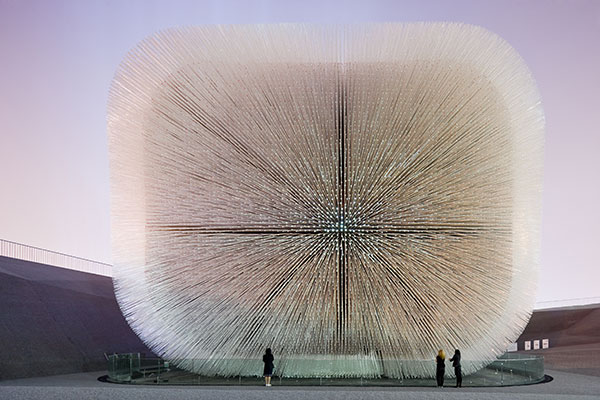 The Seed Cathedral is Thomas Heatherwick's bestknown project shown at 2010 Shanghai World Expo. The designer and his team have worked on other initiatives around the world, like Nanyang Technological University in Singapore. [Photo provided to China Daily]
British designer Thomas Heatherwick, famous for creating a seed dome at 2010 Shanghai World Expo, returns to China with a new show. Sun Yuanqing reports.
British designer Thomas Heatherwick, who is well-known in China for his work on the UK pavilion at 2010 Shanghai World Expo, was in Beijing recently to attend the opening of The New British Inventors: Inside Heatherwick Studio exhibition at an art museum.
Curated by Kate Goodwin, head of architecture at London's Royal Academy of Arts, the ongoing show is being held at the Central Academy of Fine Arts to display models of some finished projects the designer has so far undertaken. The centerpiece is the Seed Cathedral that was created for the UK pavilion during the Shanghai exposition.
While directing the project that involved 250,000 seeds borrowed from the Millennium Seed Bank and some 60,000 acrylic rods that were used to make a cube, Heatherwick focused on "better city, better life", the exposition motto. Seed Cathedral explored the connection between urban spaces and nature.
But when his studio first won the contract, the British government wasn't enthusiastic about the idea of having their national pavilion styled with seeds and not with more representative figures such as soccer star David Beckham or fictional detective Sherlock Holmes or even British tea bags, Heatherwick recalls.
"They kept saying to us 'very risky, very risky'. I kept saying to them that it would be riskier to show cliches. It is the safest thing we can do to show something that even British people have never seen," Heatherwick, 45, told China Daily on the sidelines of his Beijing exhibition.
Interestingly, Shanghai World Expo Bureau agreed with Heatherwick and helped him persuade the UK government to agree to the seed venture, he says.