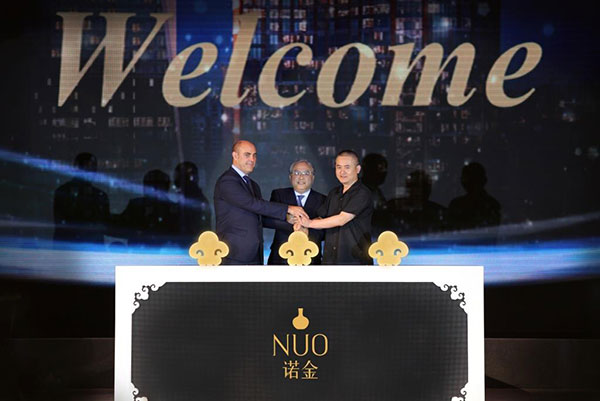 Duan Qiang, chairman of BTG(middle), Alejandro Bernabe, Global CEO of Kempinski Hotels (left) and Zeng Fanzhi, NUO's honorary art consultant (right) announced the opening of NUO Hotel Beijing on June 5, 2015.[Photo provided to chinadaily.com.cn]
"Made in China" Luxury Brand NUO has announced the opening of its first flagship, NUO Hotel Beijing, last Friday, offering highly sensory guest experiences to luxury traveler.
NUO Hotels interprets its "golden promise" by drawing inspiration from the country's 5,000 years of history and cultural heritage and its commitment to serving as a custodian of traditional Chinese culture.
Developed in conjunction with Kempinski Hotels and entirely owned by Beijing Tourism Group (BTG), NUO aims to disseminate the novel lifestyle and attitudes of modern China while honoring its cultural heritage and supporting contemporary art and culture.
The NUO brand is based on four pillars: Chinese, luxury, contemporary and green. The service attitude is following BTG's Chairman Duan's innovative vision of Chinese hospitality, which is based on international standards, local flavors and adding value, a pioneering concept within China.
These four pillars and service style represent NUO's core philosophy ensuring that guests enjoy an unprecedented hotel experience. NUO's brand identity is symbolized by a Chinese vase, representing hospitality, prosperity and commitment to a bright future.
In addition to Beijing, NUO Hotels has development plans in China and rest of the world. Each NUO hotel has varying cultural style and design inspirations, being a showcase of a unique aspect of traditional Chinese culture or history of the property's location.
"The spectacular growth of the Chinese tourism industry in recent years has underlined the need for China to have its own distinctive 'made in China' luxury hotel brand," said Duan Qiang, chairman of BTG.
"As one of China's largest tourism companies, Beijing Tourism Group is proud to launch a five-star hotel group which celebrates Chinese heritage and culture."