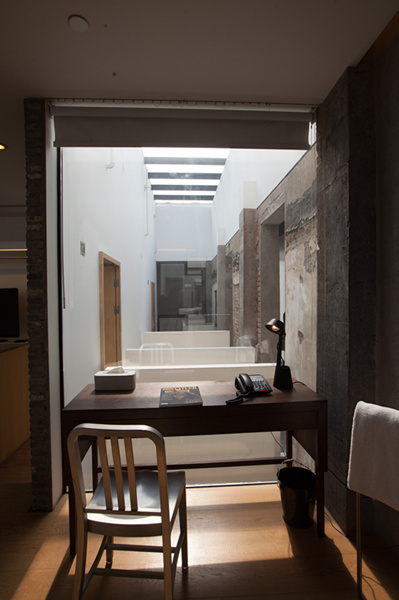 Mortar walls are replaced by glasses to recreate a typical Shanghai lifestyle in which the private and public spaces are blurred.[Photo/China Daily]
Situated on the South Bund in Shanghai, the boutique hotel Waterhouse blends private and public space, while giving visitors a view of the Pudong skyline.
Glass is used not only as windows, to give guests a panoramic view of the Bund and Pudong skyline, but also as walls, offering people on the street a peek inside.
The 19-room hotel is operated by the Singaporean hotel group Unlisted Collection. According to the hotel's website, the original dockyard building and warehouse date back to the 1930s. The warehouse has been restored, preserving its industrial look.
Inside, there's a famous verse from Chinese contemporary poet Bian Zhilin on the wall, summarizing the unique experience of the hotel: "When you watch the sceneries from the bridge, the sightseer watches you from behind. When the moonlight silvers your window, you become the silver lining of someone else's dream."
Waterhouse opened in 2010, right before the Shanghai Expo. The hotel's name was inspired by its location: It sits near the Huangpu River. The hotel's management team and its designer, Lyndon Neri, the co-founder of Shanghai-based "design and research office" Neri &Hu, believe that the ambiguous line between private and public life is also the very essence of life in Shanghai lane houses, or shikumen, which were once the most common type of residence in the city. Many have been destroyed over the years, as Shanghai grew into one of the biggest cities in the world.
In the past, residents of shikumen set their dining tables on the sidewalks, and families dined in the open air. The public spaces between the narrow alleys became even more crowded as they were covered by sheets of bamboo mats for sleeping.
And Neri, who received a master of architecture at Harvard University and is now an active visiting critic for design schools in the United States such as Princeton University, called these occupied public spaces "the middle ground that makes the city tick".
People from other cities and countries used to view these occupied public spaces as an example of Shanghai natives being shrewd and trying to take advantage of every inch possible. Inside the hotel's warehouse, which was used by the Japanese as a factory in the 1930s, glass windows bring light into the otherwise gloomy space, now used as an event hall. The hotel's only restaurant, Table No 1, has been popular among local foodies. From the outside, windows offer a glimpse into some of the hotel's 19 rooms, but curtains allow guests to have private time whenever they want.
If you go
The Waterhouse at South Bund Address: No 1-3, Maojiayuan Road, Huangpu district, Shanghai
Telephone: 021-6080-2988
Cost: starting from 1,300 yuan plus 15-percent service charge per night