Jackie Chan encourages future hope among quake-stripped Nepalese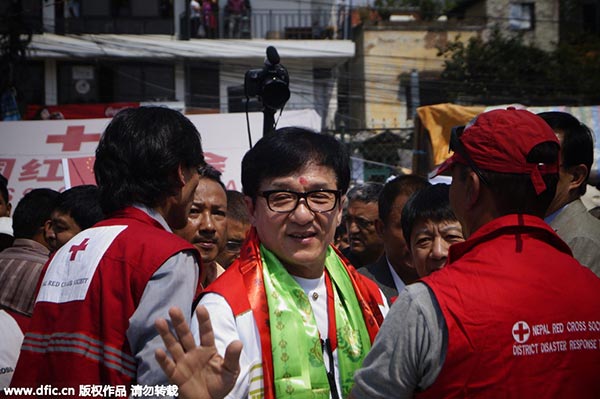 Hollywood actor Jackei Chan greets people after distributing relief to the earthquake victims in Lalitpur, on June 9, 2015. Jackie Chan is for one day visit to Nepal to distribute relief to the earthquake victims who were affected by the devastating earthquake of April 25 and May 12 which have killed more than 9000 people and damaged half a million houses in Nepal. [Photo/IC]
Hollywood Kung Fu superstar Jackie Chan finds himself being more loved for visiting people personally rather than his donation of 5,000 boxes of relief aid essential for the quake victims.
During his trip to the quake-hit Himalayan nation on Tuesday, the martial arts master realized the affection of his fans toward him as he distributed the relief supplies to the displaced families in the aftermath of the massive 7.9-magnitude earthquake on April 25.
"I felt coming to Nepal is more important than donating money. I want to tell the people of Nepal that you are not alone. We all own this world, this earth," Chan told Xinhua.
The international superstar had landed in Kathmandu's Tribhuwan International Airport to extend the support to the victims through his Jackie Chan Charitable Foundation in partnership with the Chinese Red Cross Foundation.
He received a warm welcome and a lot of love was shown by the people of Kathmandu who were excitedly shouting "Jackie Chan, Jackie Chan" upon his arrival in the capital. They not only greeted the actor with flowers and a Khaada garland but also with a traditional Nepali cap known as Dhaka Topi.
Though the news of his visit was kept quiet, it could not stop the photographers and fans following him during his tour.
Such cheerful and at times frenzied fan-following, sent a clear message to the superstar that the Nepalese are full of positivity and high spirits, who can smile while enduring devastation and pain.
He sees the love of the Nepalese fans as a symbol of hope for the post-quake reconstruction.