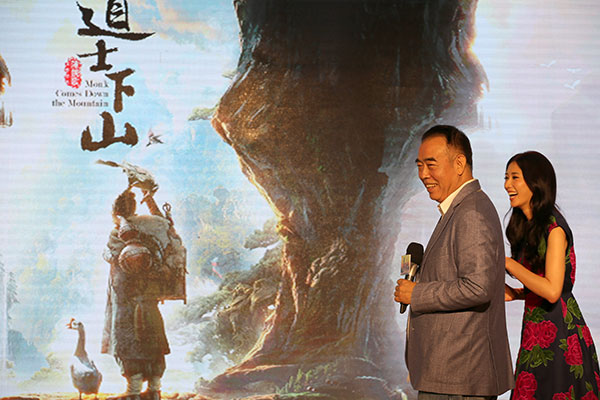 Chen Kaige and Taiwan actress Lin Chi-ling speak at a promotional event for the upcoming martial arts comedy Monk Comes Down the Mountain. [Photo by Jiang Dong/China Daily]
A well-known name in Western film circles, Chinese director Chen Kaige has now shot a martial arts movie for the first time in his 30-year filmmaking career.
Chen shot to fame with the 1985 drama Yellow Earth. As one of the country's most influential directors, Chen earned an international reputation in the early 1990s, when his movie Farewell My Concubine won the Golden Palm Award at the Cannes Film Festival in 1993. It won a Golden Globe for best foreign film a year later.
The veteran director has now turned his attention to wuxia, a genre of martial arts films. Wuxia films were some of the earliest Chinese films to attract the attention of Western moviegoers but in recent years the genre has been in decline.
Only five of the 618 films released last year were martial arts tales, according to the 2014 China Film Industry Report.
Chen's upcoming wuxia comedy drama, Monk Comes Down the Mountain, will hit mainland theaters on July 3, with more than 200 cinemas releasing the title in the IMAX 3-D version.
Set in the turbulent period in the Republic of China (1912-49), the story, based on the namesake best-selling wuxia novel, features an adventure journey of a young Taoist monk, who is forced to leave his secluded temple to avoid a famine.
Chen believes a movie should be an "interesting" product and not only focus on money. Chen says his latest film, which took 213 days to shoot with more than 1,000 crew members, is the most "arduous" work he has ever made.
"Every day (on sets) was like a practice for me. It has been tough, but very exciting," the 63-year-old director says.