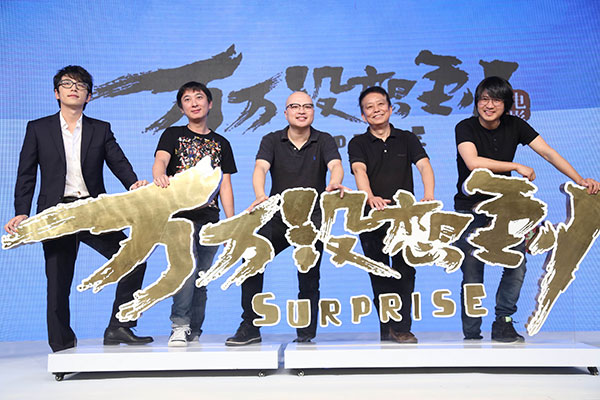 The popular online comedy series Surprise will be adapted into a movie. Its promotional event in Beijing features the production crew and celebrities, including (from left) actor Luo Hongming, Wang Sicong, the chairman of Wanda Group, director Yi Zhenxing, producer Huang Jianxin and best-selling author Han Han. [Photo/CFP]
Popular short comedies will have their day as feature films, the latest in an online-to-cinema trend, Wang Kaihao reports.

Surprise, a series of short comedies broadcast on China's leading video-streaming website Youku, has attracted more than 2 billion clicks since its premiere in 2013.
So it wasn't a surprise when Internet colossus announced on Tuesday in Beijing that the show will be adapted into a feature-length film.
The original miniseries, which was composed of 31 five-minute-long episodes over two seasons, chose wide-ranging topics including ancient novels, historical legends and modern daily life to create adventure stories mixed with amusement and satire. It also has stirred a wide discussion among the young generation by injecting many buzzwords and slang into people's daily dialogues.
"The right time has come," says Yi Zhenxing, director of the series and the upcoming film. The 31-year-old, better known by his pseudonym "Joy Show", first got public notice for short films.
The new film's shooting will begin later this month, but the release date remains unknown.
Yi promises he will stick to a typical filmmaking process, clearly distinguishing the result from the online episodes.
The screenplay has been changed some 41 times. He says he will shun "lousy" special effects.
Han Han, the best-selling author who made his directorial debut, The Continent, last year, will be the film's production designer supervising multiple processes from soundtrack to screenplay.
Huang Jianxin, a big name in the Chinese film industry, will be the film's producer. He says he had not heard of Surprise when he got invited. He finally joined the film spurred by "curiosity and admiration for the creativity".
The cast of the film will be identical to that of the original series, which means no established
movie
star will be introduced. Lead actor Luo Hongming, better known by his screen name White K, has never played in a movie before.
A newbie filmmaking team is not an obstacle for Youku's ambition.
"The film is to better serve fans of our online shows," says Gu Yongqiang, CEO of Youku. "It's a surprise not only to see that an online show has become a phenomenon within two years, but a promising future of a fan-based economy. I wish Surprise could be a miracle among spinoffs of Chinese online shows."