Dead drug suspect thought to be CCTV host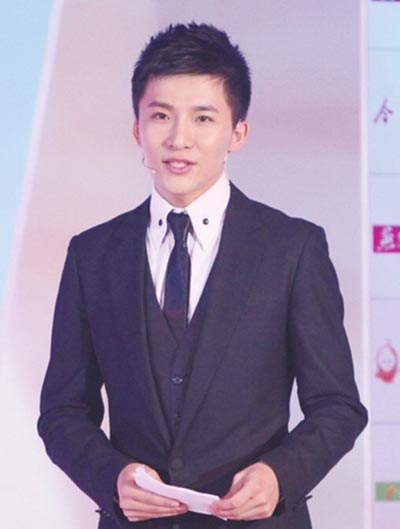 TV host Bian Ce. [Photo/Agencies]
A drug suspect, who was found dead Tuesday after a fall from his eighth floor residence and in possession of methamphetamine, is thought to be Bian Ce, a host who once worked for Channel 6 at China Central Television.
The official Sina Weibo account of the Beijing Municipal Public Security Bureau said a man with the surname Chen was arrested at his residence at 2 am Tuesday on suspicion of taking illegal substances. Drug paraphenalia and a small quantity of methamphetamine were confiscated and Chen tested positive for methamphetamine.
During the interrogation, Chen stated that a man surnamed Bian, who lived in the same neighborhood as Chen, is also a major suspect for possessing and taking illegal substances. No one answered the door when the police arrived at Bian's residence. The window was open when police entered the room and at the same time, a man was found lying in front of the building.
Paramedics confirmed that the man was dead.
Police identified the deceased as the suspect they were looking for, Bian, a 32-year-old from Northeastern China's Jilin province who currently worked at a culture and mass media company.
Authorities found two small packets of methamphetamine and straws on his body and both amphetamine and methamphetamine were found in his blood sample. Police excluded the possibility of homicide and stated that Bian died from falling from his eighth floor residence to the ground.
The post, which was made at 6:55 pm Wednesday, said police were working on further investigations.
According to a report by Beijing Times, the deceased is from Changchun, Jilin province, and has worked as host of cultural and entertainment programs at many television stations.
Chinese Internet users speculate that the suspect is the TV host Bian Ce, whose profile shows that he was born in Changchun, Jilin province and is 32 years old this year. Bian has hosted shows on China Central Television's film channel as well as Shanghai OTV.
Internet users have swamped Bian Ce's official Sina Weibo account, leaving more than 19,000 comments on his last post made on June 4. Many bemoaned the death of a talented host, while some users criticized the widespread infiltration of drugs in showbiz. \
Related:
Tainted actor's film will 'not' be released