Vietnam by the lake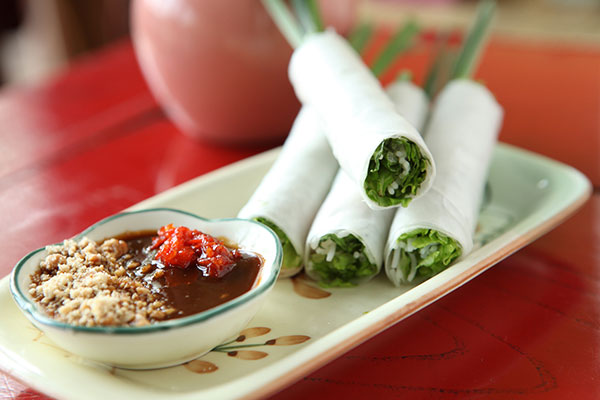 Fresh mint shrimp roll. [Photo by Jiang Dong/China Daily]
A popular Beijing eatery has been a lakeside delight for more than a decade, offering tastes of Southeast Asia one floor above a traditional Shandong restaurant. Liu Zhihua savors some popular bites.
Taking up the second floor of a historic Qing Dynasty (1644-1911) building by the Shichahai lake shore, Nuage is quite a famous spot on Beijing's dining map for providing diners with a distinctive Vietnamese dining experience and beautiful lake views.
Its name, meaning "cloud" in French, is based on the building's name, Qing Yun Lou-literally "celebration cloud building".
From the moment diners enter, the smiling faces of young and obliging waitresses in traditional Vietnamese long skirts (ao dai), and a cool atmosphere will give them a reprieve from the summer heat, to enjoy their time amid chic antique furniture, seats made from old rickshaws, and dim paper lanterns hanging low over the tables.
Owner Wang Jing says he and his wife visit Vietnam every year to get inspiration for updating the restaurant menu. Vietnamese cuisine is a good choice for summer, because it has a lot of fruits and herbs, and the prevalence of tender sourness and spiciness stimulates people's weak appetite on scorching hot days, Wang says. The cuisine is also one of the healthiest culinary styles worldwide, due to its balance of vegetables, fruits and meat, and its minimal use of cooking oil, Wang says.
Nuage showcases some of the best Vietnamese dishes one can find in Beijing-or in Hanoi or Hoi An, famous stops on the Maritime Silk Road-although the emphasis is on southern regional flavors that often reflect French colonial-style food.
The ingredients are fresh: fish sauce, soy sauce and shrimp paste are tossed with mint, lemon grass, ginger, lime, basil leaves and chili, not to mention various kinds of seafood and meats.
Most of the dishes are briefly cooked, or contain something raw, while herbs or vegetables appear in almost every dish, making the dishes colorful and eye-catching.
Fresh mint shrimp roll is the most popular Vietnamese dish in the restaurant-a visual and tasty delight I enjoyed as I dined the other day at a party of eight people.