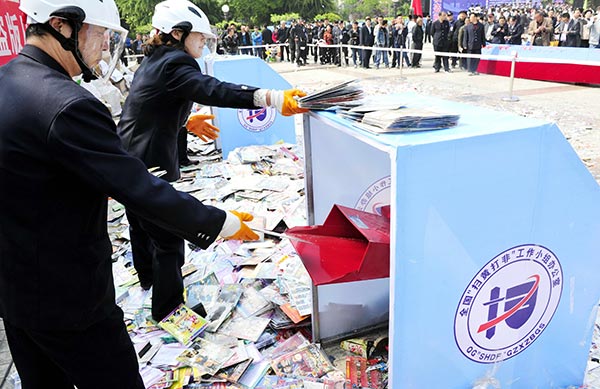 Pirated copies of books, audio and video products, as well as software, were destroyed during a crackdown in Weinan, Shaanxi province, in April. Yuan Jingzhi / for China Daily
Experts have welcomed updates to the legal framework to tackle piracy as digital access to foreign films and TV series poses new challenges in copyright protection.
Advances in online streaming technology have made watching Hollywood blockbusters and foreign TV series on mobile platforms routine for young Chinese such as Peng Yingjie, who follows HBO's Game of Thrones on Internet company Tencent's video website.
"It's great to have real-time update of the drama through legitimate channels. It feels definitely much better than watching pirated content in low quality," said the student from the East China University of Political Science and Law.
However, unauthorized downloads and streaming of foreign films and TV shows remain a pressing issue that hampers China's attempts to become a strong intellectual property power, despite the increase in the number of legal arrangements such as Tencent's deal with HBO to screen the series.
Participants at the High-Level Round Table on the Cultural and Economic Importance of Film and the Role of Copyright, which concluded in Shanghai on Tuesday, agreed that China's efforts in copyright protection have made sound progress, but further international cooperation is needed.
The country is revising the Copyright Law to comply with international standards and specify the rights and obligations of producers of creative works.
Wang Qian, a law professor at East China University of Political Science and Law, said the amendments will protect copyrights with detailed clauses targeting infringements that have emerged in the digital era.
Ren Zhonglun, president of the Film Copyright Association of China and Shanghai Film Group Corp, said, "As China's film industry hits new heights, deciding how to benefit commercially from copyright operation and protection is the key to greater success."
Box office returns in the Chinese market surged by 36 percent to reach more than 29 billion yuan ($4.67 billion) in 2014, making the country the second-largest film market after the United States, according to Ren.
However, online piracy has badly affected the commercial development of film copyright away from the big screen as sales of legal DVDs face challenges from free illegal downloads or streaming, said Cai Jiwan, deputy director of Shanghai Copyright Administration.
"Copyright distribution and associated businesses contributed more than 60 percent of the total revenue of the film and TV industry in the US, while the corresponding businesses in China accounted for only 10 percent, largely because of rampant copyright violations," he said.
To address the issue, the National Copyright Administration of China has strengthened enforcement against online piracy in its annual campaign against copyright violations, launched earlier this month.
The campaign has uncovered 4,600 online copyright infringements, shut down 1,926 websites and confiscated 1,178 illegal servers since its launch in 2005.
In April 2014, China became the third member of the World Intellectual Property Organization to accept the Beijing Treaty.
The agreement lets performers authorize or prohibit reproduction and distribution of their works and enables them to seek compensation.
Related:
China's film industry: Booming market faces challenges