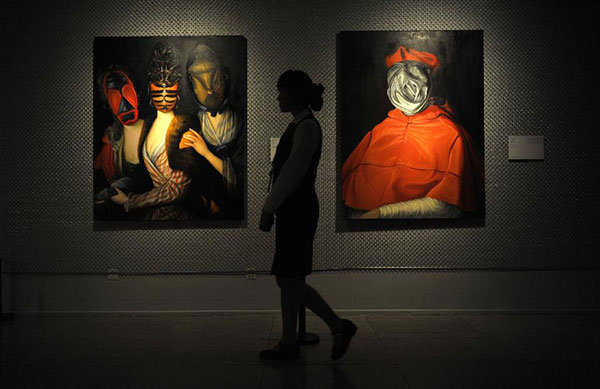 The show State of Life at the National Art Museum of China touches on Poland's social realities and culture. [Photo/Xinhua]
Treasures from Chopin's Country, the exhibition that concluded at National Museum of China a month ago, took visitors on a journey through five centuries of Polish fine arts. Now, Poland's modern art is being displayed for Chinese audiences at another venue in a show titled State of Life.
The latest exhibition, at the National Art Museum of China, has some 70 contemporary art pieces touching on Poland's social realities and culture, as well as the lives and emotions of its ordinary people. It mostly centers on the art landscape before and after 1989, when Soviet-led communism ended in Poland, and seeks to reveal how Polish artists noted changes in their nation's cultural identity and values over time.
In Wlodzimierz Pawlak's oil painting of 1986, Nostalgy, he uses the Polish national flag as the background. He paints a swimmer - a symbol of Polish people - struggling alone at the border of the white and red blocks, as if trying to stay above the surface of water. In it, the man sees no hope of being saved - the social emotions that Pawlak detected at the time.
In the work, he expresses people's nostalgia for the passion that once dominated the Polish nation.
The mood dramatically transforms in Tadeusz Rolke's photo series, Tomorrow Will Be Better, taken in 1992.
It documents not only the beginning of Poland's transition in the early 1990s, but also the restart of people's lives in an era when new and old rules began to coexist.
Through Rolke's lens of calmness one can see people acting in varied ways toward the transformation. Some are profiting from their first barrels of gold - they converted beds into merchandise stands and public buses into restaurants - while the elderly are seen looking surprised and unprepared for the changes.