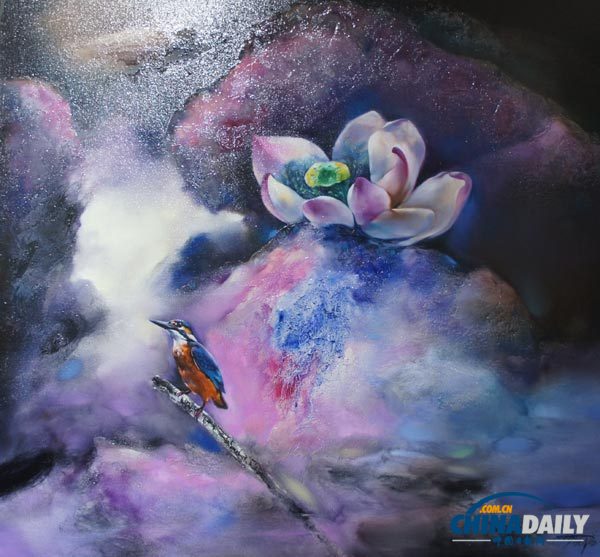 A painting by Chinese oil painting artist Huang Yue. [Photo/chinadaily.com.cn]
Chinese artist Huang Yue's personal exhibition of flower and bird oil paintings opened at the Peking University library in China's capital, Beijing, on Tuesday.
Traditionally, Chinese artists have used ink painting to express the beauty of flowers and birds, but artist Huang Yue has carried on that tradition by combining it with Western-style oil painting.
Flower and bird ink painting, a traditional art form that's unique to China, originated during the Tang Dynasty (618-907). Since then, Chinese artists have expressed their emotions with gradations of mostly monochromatic strokes in ink, with scarce touches of color to accentuate the scene.
Its manifestation differs greatly from those of Western oil paintings, where abundant colors and textures are used to create depth and abstractness.
The artist said that his paintings are neither the traditional ink paintings of flowers and birds nor Western-style oil paintings.
Huang Yue's oil paintings of flowers and birds exist somewhere between the two, and it's completely new and innovative.
The exhibition, Nature's Divine Impressions, was initiated by the famous philosophy professor Zhang Shiying and is co-hosted by Peking University Peiwin Education Corporation and Huang Yue Art Foundation.
Prof. Zhang said Huang's paintings are not limited by any traditional techniques of artistic expression.
Huang started fusing Chinese and Western styles of painting in 2000. As of today, many of his works have won international awards and have been collected by art galleries and celebrities around the world.