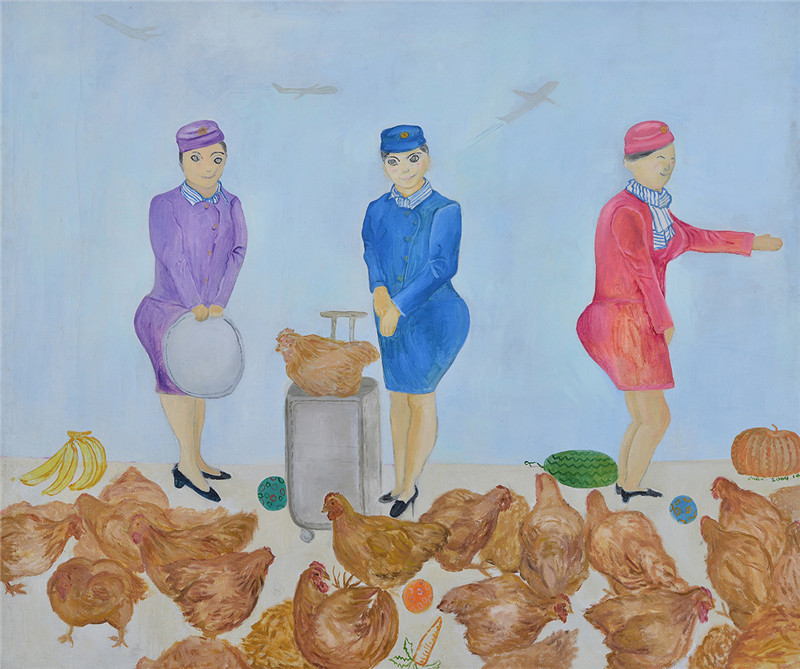 A painting on display at the Poly Art Museum in Beijing, Wednesday. Photo provided to chinadaily.com.cn
A group show ending on Wednesday (Nov 12) at the Poly Art Museum has shed new light on works by accomplished Chinese oil painters, focusing on new trends of China's contemporary oil painting.
The large-scale show has displayed nearly 100 oil paintings by 48 young Chinese artists, many of whose works are popular at auction houses, such as Jia Aili and Liu Wei.
Zhu Tong, curator of the show, says the group wanted to present a clear picture of the development of Chinese oil paintings after the 2008 financial crisis, a turning point for China's contemporary art world.
"The year 2008 is like a watershed that divided China's cotemporary art into two categories — academic ones and those made for market," says Zhu.
Since 2008, Chinese oil painters have become more open and versatile in both their choice of subjects and materials, adds Zhu. They're more willing to express their ideas and search for inner feelings.
But art should never be simply divided into academic- and market-oriented, says Jia Wei, manager of the contemporary art department with Poly Auction, one of the two major auction houses in China.
"The art market is mature. Collectors have their own tastes and ask for good works based on academic painting," says Jia.
Poly Auction has recently set up some projects to fund young artists because of the strong demand for their works in the art market.
The show will tour other cities in China later.