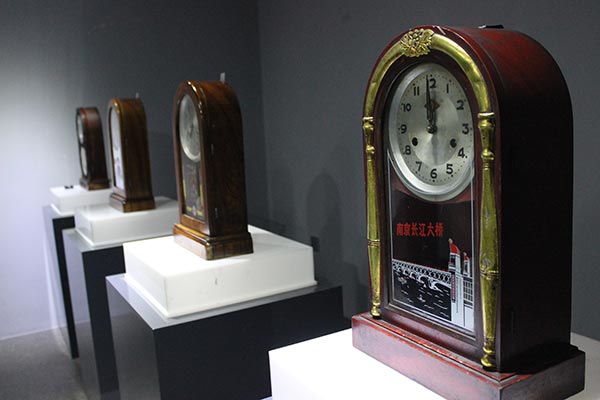 A showcase of clocks made in the 1960s at the exhibition tracing the century-long history of China's clock industry at the Polaris Horologe Culture Museum in Yantai.[Photo by Wang Kaihao/China Daily]
China's own ticking sound has lasted for a century, since a pathfinder's entrepreneurship in Yantai, a seaside city in Shandong province.
When Li Dongshan (1873-1946), a former hardware-store owner, decided to open his Baoshi Clock Factory in 1915 (it was renamed Polaris in 1960) in the city after years as an apprentice in Germany and Japan, he likely didn't expect his country-with the poor industry foundation of his era-would have such a grand birthday party for tick-tock machines today.
More than 400 people gathered in Yantai on July 10 to celebrate the 100th anniversary of the birth of China's modern clock industry.
According to Li Wei, a Beijing-based veteran timepiece collector and scholar, China's homemade clock studios date back to the 17th century, and the royal workshops in the Forbidden City also once produced delicate clocks.
"However, these handcraft workshops were scattered and produced clocks of small quantity, compared with numerous imported clocks from Western countries in the late 19th century," Li explains. "Things only began to turn around when China had its first industrial assembly line manufacturing clocks in 1915. "
Zhang Shaoji, board chairman of Polaris, says that more than 30 clock factories were established in China's coastal areas in the 1930s, but nearly all of their founders came from Yantai.
"Designs and manufacturing techniques of Chinese clocks have made a long, difficult march in the past decades," says Tao Xiaonian, chairman of the China Horology Association, the national-level body supervising the industry. He says China now has 1,800 watch and clock factories.
"We've formed a relatively complete industry line, though, greatly narrowing the gap with the world's leading watch and clock manufacturing countries."
Some events stirred nostalgia among not only those in the industry but also the public. Meanwhile, the association announced a list of the industry's 101 most important individuals in the last century at the celebration ceremony.