Finding the fun in what we eat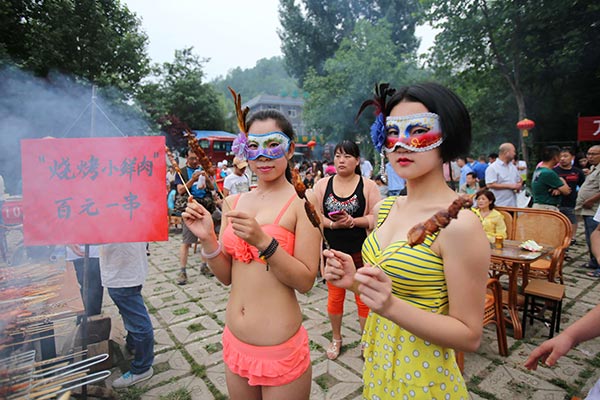 Women in bikinis sell mutton kebabs for a roadside barbecue stall in Sanmenxia, Henan province.[Photo provided to China Daily]
Some of my friends who often join me for dinner would not care for the Trattoria Valmarana.
There's a lot to like about this charming eatery on the waterfront in the Italian city of Venice. The specialties, unsurprisingly, are fish dishes, served in a soothing cocoon of tangerine-hued walls.
What would annoy my friends, perhaps, is that the space is a Wi-Fi-free zone.
"We want people to focus on the food," the manager says, with a shrug. "If they want to work or play video games, there are other places that provide an environment for such purposes."
Arrogant? Simply bonkers? A dinosaur behind the times?
Perhaps.
But many eateries and chefs are working to make the dining experience so interesting that customers forget about texting and WeChatting. Many of them are in China.
Summer weather makes it easier. Eating outdoors, at a barbecue or a sidewalk cafe, creates an ambience that most of us are eager to enjoy.
Some entrepreneurs go the extra mile to get our attention. A barbecue operation in Henan was an online sensation recently for hiring attractive ladies in bikinis to lure customers to dinner.
Top chefs, meanwhile, come up with all kinds of ways to share their passion for food and make it fun.
In Beijing, chef Daniel Urdaneta of Mosto and chef Alan Wang of Hatsune recently hosted rooftop dinner parties on two consecutive nights. Limited to 20 diners each night, the Peruvian fusion dinners were a candlelit culinary orgy - 12 courses with wine, each prepared by the chefs in the middle of their guests, who were seated in a horseshoe arrangement. The dinner tickets were 1,000 yuan ($161) per person - not enough to cover the costs of the gourmet courses, premium wines and weeks of preparation.
"We did it because we wanted to," Wang says with a grin.
"We wanted to have a great dinner for friends who would appreciate it," concurs Urdaneta.
You don't have to rent a rooftop and order Wagyu beef and 11 other choice morsels to achieve that, or hire a posse of bikini-clad barbecue cooks - unless you want to. Take a dinner cruise on the harbor at Hong Kong, Shanghai or Xiamen. Chow down on ribs and vanilla-bourbon cocktails alongside the big lotus pond at Windy City Ballroom in Beijing. Or grab some friends and head to a favorite park for a picnic.
Just don't let your cellphone diminish a lovely meal.
The author is food editor for China Daily Life