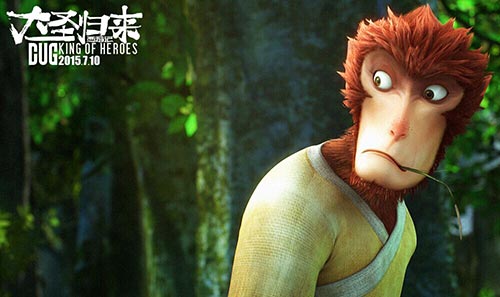 [Photo from Internet]
Just three days after hitting the screen across China, the Chinese animation film "Monkey King: Hero is Back" evoked enthusiasm among audience and ticket sales have exceeded 100 million yuan ($16.11 million).
Web celebrities and many fans even posted topics about the film on China's Twitter-like Weibo, at which heated discussion are sparked.
"Monkey King: Hero is Back" is based on the household legend of the Monkey King, but tells a not-so familiar story. However, it's still a Chinese style heroic legend and an exciting adventure against evil and darkness in troubled times, according to Lu Wei, the producer.
"Monkey King is China's super hero. It is so popular among Chinese audience because they long for and cherish our own superhero," said Tian Xiaopeng, the director.
The film took eight years to make and cost more than $10 million, Lu said.
Earlier, the film achieved record-high overseas sales of a Chinese animation film with $2.1 million in Cannes. It is also the only animation film nominated for Movie Channel Media Awards category at the 2015 Shanghai Film Festival since its inception 12 years ago.
Related:
Hayao Miyazaki making first CG short