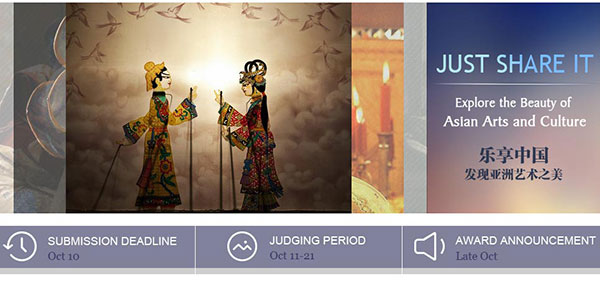 Does Asian art capture your eye? Do you find yourself intrigued by Asian culture? Join us for the 14th Asia Arts Festival "Just Share it" contest!
The Ministry of Culture now invites contestants from across the globe to participate in a photography and video contest centered on exploring the beauty of Asian arts and culture.
Anyone with an interest in Asian culture and arts is invited to share "Asia's beauty" on social media sites to enter the contest. The contest lasts about four months, starting from early July to October 10th (the last day to submit work.)
The top three winners will be able to attend the opening ceremony of the 14th Asia Arts Festival, and will also receive a round trip ticket to Quanzhou and an insider's tour of a city that has a rich history as the starting point of the Silk Road.
Winners will be selected through both Internet users' votes and experts' evaluations fromChina Dailyand China Photographers' Association. The online poll will account for 40% of the final score report and the expert opinion will account for 60%. Works will be displayed on Chinadaily.com.cn and Chinaculture.org. Winners will be announced by November 1.
Sponsored by the Ministry of Culture, the Asia Arts Festival is the first international arts festival hosted by China. Since its launch inBeijingin 1998, 13 festivals have been held in different cities in the country. The 14th Asia Arts Festival will kick off in Quanzhou, Fujian province, in November.
The Asia Arts Festival has become a renowned medium for foreign cultural exchange. This event is marked with growing anticipation, expanding variation in colorful creations, and a significant purpose in spreading Asian culture and appreciation. So "just share it" if you'd like to be part of this impactful event!
How to Sumit:
Please send your work or links to video-sharing websites, such as YouTube, to contest@chinadaily.com.cn
Or you can submit your work to Chinaculture.org's Facebook page Just Share It- Explore the Beauty of Asian Arts and Culture
You can also post your work on China Daily's BBS online forum (http://bbs.chinadaily.com.cn/thread-1444375-1-1.html)
For more details, please go to the official page: http://www.chinaculture.org/beautyofasia.html