Gangnam Style star Psy's Rolls Royce crashes into bus in SE China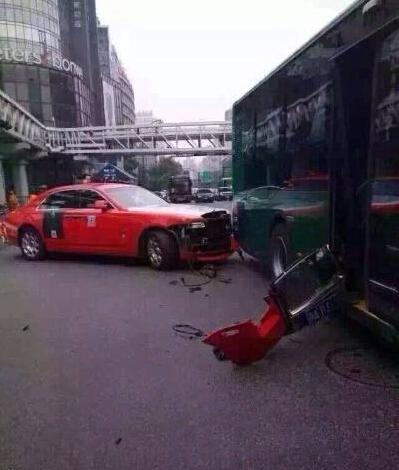 South Korean pop singer Psy's red Rolls Royce collided with a bus in Hangzhou on July 16. [Photo/Agencies]
South Korean pop singer Psy has been in a car crash after his Rolls Royce collided with a bus in Hangzhou, Southeast China's Zhejiang province, on July 16.
According to Hangzhou Public Transport Group, Psy's red Rolls Royce crashed into the bus when it was making a right turn westwards at the intersection between Yan'an road and Qingchun road at 15:40 on July 16, causing damages worth 2,000 yuan ($322.2) to the bus. No one was hurt, and parties involved have negotiated and settled the compensations.
The singer was making his way to a hotel in Hangzhou when the accident happened, reported local media. A Porsche was leading the singer's convoy, and Psy was driven away in the Porsche after the crash.
Psy, whose real name is Park Jae-sang, shot to global fame with his single Gangnam Style in 2012.
Related: