Survey affirms locals' love of hotpot, with ox stomach voted most popular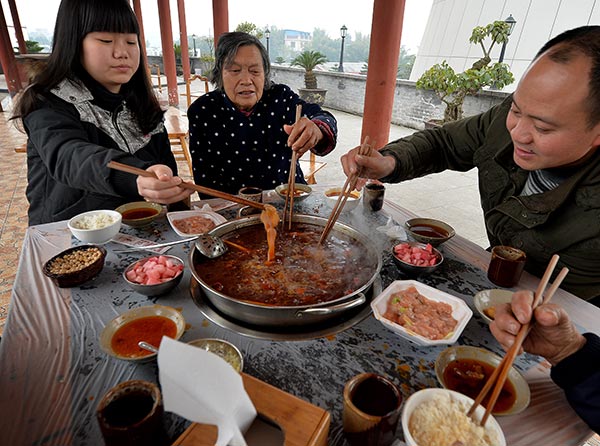 People enjoy hotpot dishes in Chongqing in February. [Photo/Agencies]
Visitors to the mountainous city of Chongqing may be surprised at the local people's craze for spicy hotpot and their taste for animals' internal organs.
Chongqing people have recently voted ox stomach the most popular hotpot dish, according to the Chongqing Hotpot Association's new Hotpot Red Book, the first time the city has published such a report.
Lotus root and fried pork are also favorite orders, according to the book, which was released earlier this month.
Boasting both the best and largest number of hotpot restaurants in the country, Chongqing was named "China's hotpot city" by the China Cuisine Association in 2007.
The association said the municipality has about 26,300 hotpot eateries, hiring nearly 500,000 employees.
But the affordable cuisine is getting more expensive. The average cost per person per meal is now about 50 yuan ($8), up from 30 yuan three years ago.
In 2013, the total net profit from such cuisine in Chongqing was an estimated 15 billion yuan with an annual growth of 15 percent.
"I eat hotpot at least twice a week, even in summer," said Li Yan, 37, a small-business owner in Chongqing.
While acknowledging that "it's not too healthy", given hotpot's excessive oil and spices, "Chongqing locals just can't live without it".
Li said he believes the number of hotpot restaurants in Chongqing is much higher than the association claims.
"Only 26,300? No way. There are five hotpot places within 150 meters of my home," Li said.