The summer vacation has began for many school children, and many Chinese movie theaters have adjusted their schedules to meet the demands of the public.
From July 11 and through August, up to 2,000 cinemas in China are participating in "Morning! Animated Movies" campaign to showcase films targeted at the younger audience from 9 am to 11 am. 18 Chinese films are expected to be released.
We've selected ten domestic animated films to watch this summer.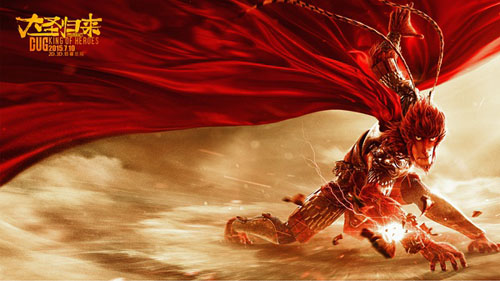 Poster for Monkey King: Hero is Back. [Photo/Agencies]
Monkey King: Hero is Back
The story of Monkey King: Hero is Back is based on the traditional Chinese tale Journey to the West. The tale is about the journey of a Buddhist monk who travels westwards with his three disciples in search of Buddhist teachings, but the film is about the relationship between the Monkey King and a young monk and the quest for courage and kindness
Over one thousand staff worked on the films for eight years to create the purely homegrown 3D animated feature. Monkey King: Hero is Back has pocketed more than 100 million yuan ($16.6 million) in ticket sales in just three days after its opening on July 10.
The film is now playing in theaters.