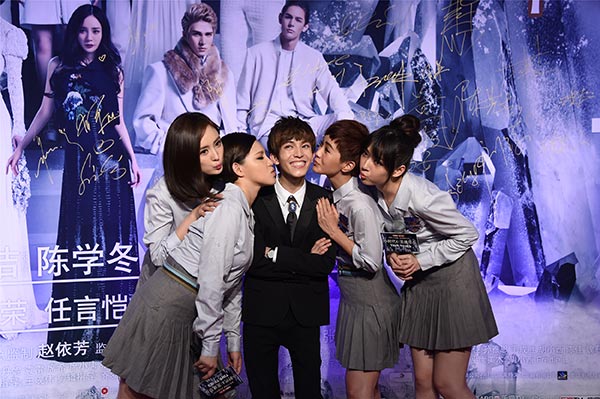 Guo Jingming (center), writer and director of the Tiny Times franchise, with his latest installment's leading actresses.[Photo provided to China Daily]
Helmsman of Tiny Times films shrugs off criticism, sets a new box-office record and says money isn't a bad word. Xu Fan reports.
When asked about the longtime criticism of his materialism-oriented franchise Tiny Times, Guo Jingming, the writer and director behind one of the country's most successful movie series, seemed to wave off such reminders at a recent media event.
"They (critics and media) have mocked me for many years," he says. "But I know what I want and the way I prefer to do it."
One day later, on July 9, the latest and final installment of the coming-of-age series, adapted from Guo's namesake novel trilogy, opened to a record 67,000 screenings, accounting for 48 percent of all showings in the mainland's 5,600 theaters.
Riding its huge, die-hard following, Tiny Times 4.0 overtook the previous record of 56,500 screenings by Jiang Wen's Gone With the Bullets to top all homegrown titles in history.
Nearly 3.3 million tickets were sold on its debut day, grossing a total box-office profit of 103 million yuan. By Wednesday, takings for the romance had snowballed to nearly 423 million yuan.
Trade analysts estimate that the final installment, based on the previous three titles' total box-office takings of 1.3 billion yuan, may ultimately bring in 700 million yuan to push the franchise past the milestone of 2 billion yuan.
However, the big numbers have hardly stemmed the sniping from critics.
Widely circulated reviews focused on the film's straightforward description of luxury items and lifestyle, and the coarse performances by some of its actors and actresses and for editing. They said it made the 125-minute title look like a "collage of musical videos". Guo, who turned director with the 2013 release of Tiny Times 1.0, is panned for making no improvement in his directorial skills, despite a high-profile cast including actresses Amber Kuo and Yang Mi.
Although 38.7 million fans follow Guo on Sina Weibo, China's equivalent of Twitter, the finale fetched only 4.6 points out of 10 from around 30,500 viewers on Douban.com, a major movie-review site in China.
"The movie only makes theatergoers see vanity and material desires, not the self-claimed theme of true friendship," says Li Xingwen, a veteran critic.
Set in present-day Shanghai, Tiny Times 4.0 continues the storyline of the previous three films, centering on the romances and the in-and-out friendship of four women in their 20s. Most of the scenarios were criticized for illogical jumps and for showcasing high-end villas, luxury hotels and branded costumes.
Guo, who was listed by Forbes magazine in 2013 as the country's richest author, never denies pursuing money and fame. From purchasing houses "only for storing favorite furniture" to using a 5,000-yuan umbrella to his 1-million-yuan study room desk, Guo seems to enjoy boasting about his billionaire lifestyle.
"Luxury itself is not wrong or correct, just like money itself is not sinful. The problem exists in the way you pursue them," he says. "If you work hard to realize your dream, such as making a fortune, it should not be criticized."