Asian arts grants to broaden reach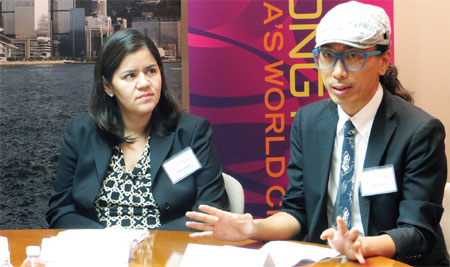 Asian Cultural Council (ACC) executive director, Miho Walsh (left), and New York residency recipient, Jeff Leung Chin Fung (right), spoke about the ACC arts exchange program at the Hong Kong Economic and Trade Office yesterday. Caroline Berg / China Daily
Since Jeff Leung Chin Fung arrived in June for an arts residency in New York, he has seen the gay pride parade, witnessed the Fourth of July fireworks, lain in Prospect Park and enjoyed reading in the Brooklyn Public Library.
"I find this fellowship program is a gift of time and place for me to do my reading and writing in New York," Leung said at a press conference yesterday held at the Hong Kong Economic and Trade Office in New York (HKETONY). "It has also allowed me to extend my own professional network."
Leung is the project manager of the Hong Kong Arts Centre. His residency is being supported by the Asian Cultural Council (ACC) and has been conducted at the International Studio and Curatorial Program to help inspire and develop his work as an arts writer and curator. During his residency, Leung has focused on writing an in-depth record of Hong Kong's art history over the past 30-50 years.
This year, HKETONY will help ACC expand its reach by co-sponsoring a fellowship program with the New York-based council. The fellowship will support three professionals from Hong Kong in the fields of visual arts, performing arts and arts administration to undertake a residency program in New York in 2014.
The partnership fits in with not only the mission of HKETONY, but also that of the Hong Kong government, which is actively promoting and building the region's arts and culture scene, HKETONY director Anita Chan said at the press conference. This includes the construction of the West Kowloon Cultural District, which Chan said the Hong Kong government has committed more than US$2.8 billion to develop the 99-acre district to include 17 new arts facilities.
"We know that it is really not buildings but people that will help build a cultural hub," Chan said. "Therefore, the Hong Kong government is also committed to nurture the artistic talents and professionals of Hong Kong's arts and culture sector."
Chan said the Hong Kong government plans to invest nearly US$20 billion just to enhance training for arts administrators in the region.
The process is now open to apply for an ACC grant and the deadline to submit an application is November 1. Application information can be obtained on the ACC website.
The ACC funds individuals or institutions with an interest in cultural exchange between the US and Asian countries, and excel in the arts, whether it is traditional or avant-garde. In its 50-year history, the ACC has sponsored nearly 6,000 artists, scholars, arts specialists and cultural leaders in more than 25 countries in Asia. From Hong Kong, the ACC has supported more than 300 arts and culture scholars from more than 10 artistic disciplines.
"The candidate pool in Hong Kong has always been exceptional," Miho Walsh, executive director of the ACC, said during the press conference. "Thanks to [HKETONY], we are able to expand our reach in 2014 and make an even greater impact in a part of the world where we see the number of qualified candidates always exceeds the number of grants we are able to make."
The ACC funds about 100 people annually. Grantees are either established masters or rising stars in fields that run a gamut of disciplines: archeology, architecture, art history, arts criticism, choreography, composition, conceptual art, conservation, crafts, dance, design, filmmaking, installation art, literature, museology, music, new media, painting, photography, printmaking, sculpture, theater, video art, video conservation and "work that defies categorization".
The ACC develops programs specifically tailored to the needs and interests of each of its grantees, whether it is to participate in research, study or creative work. The council seeks funding from individuals, foundations and corporations to help support its efforts.
"I have met with many of the recipients of the fellowship from last year and this year," Chan said. "They've all told me that they've benefitted a great deal from the exposure they get here [in New York] and the time they spent here just developing their ideas."
carolineberg@chinadailyusa.com