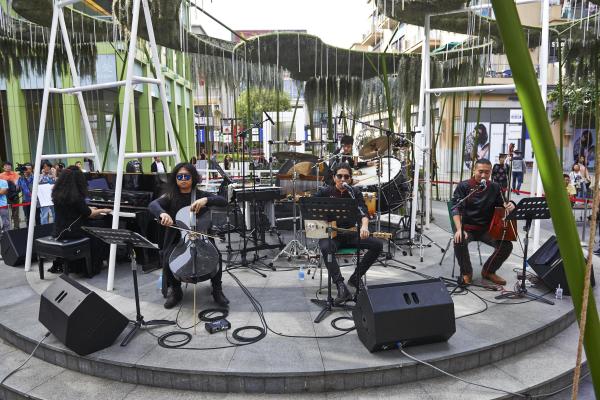 "Mongolia Symptoms", a traditional Mongolian band, perform during their outdoor concert in Shanghai. [Photo/ifeng.com] 
A Shanghai shopping mall hosted an unusual outdoor concert over the weekend, with western cellos, as well as traditional Mongolian horse-head fiddles, the group "Mongolia Symptoms" provided shoppers with an avant-garde adventure.
The musicians played original songs on traditional Mongolian string instruments such as the horse-head fiddle, together with western ones such as the cello and drums. And the mixture attracted many people.
The group, named Mongolia Symptoms, was founded five years ago. The musicians say the mixture of both western classic and eastern traditional instruments makes their music rich and modern.
"We mainly use discordant tones in our music. We want to express both the beauty of the grasslands and some bad sides of modern life such as environmental destruction. We want to develop our style of Mongolian music," cellist Song Zhao said.
"The most challenging part is how to make my instrument cooperate with others. So we often talked a lot to improve our performance. For instance, some music is from Mongolian folk songs, so we will first try to learn what they want to express, and then we know how to bring our thoughts with them," said horse-head fiddle artist, Hasbagen.
The show was the band's first outdoor performance in Shanghai, and they welcomed the chance to share their music with more people.