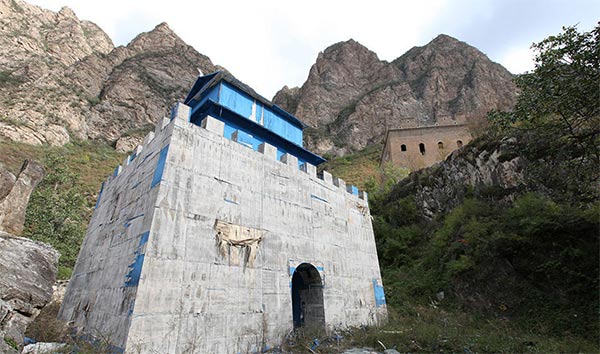 A film crew built and abandoned a set near a watchtower on the Great Wall in Mentougou, Beijing. [Photo/Xinhua]
One spot of the Great Wall, one of the world's most recognizable landmarks, recently accommodated a set built and abandoned by a film crew in May in Beijing, a local newspaper reported.
According to the Legal Evening News, a film crew built a set which included a prop ancient tower for a scene. After they finished shooting, they left without dismantling the set.
The remains of the prop set are still at the section of the Great Wall in Mentougou, Beijing, built near the No. 3 Watchtower. There are 17 ancient watchtowers which were recognized by China's cultural authorities as cultural relics under protection. The leftovers, which are incompatible with the original scenery, have indeed harmed the environment and historical landscape.
Local village residents have no idea what the film is about. They didn't know the film title, the director, the actors or anything else except the fact that it is a film or TV series set in ancient China. One villager surnamed Tang said, the crew went to this place to shoot in May, and built many buildings for the set, but wrapped up the filming very quickly and left.