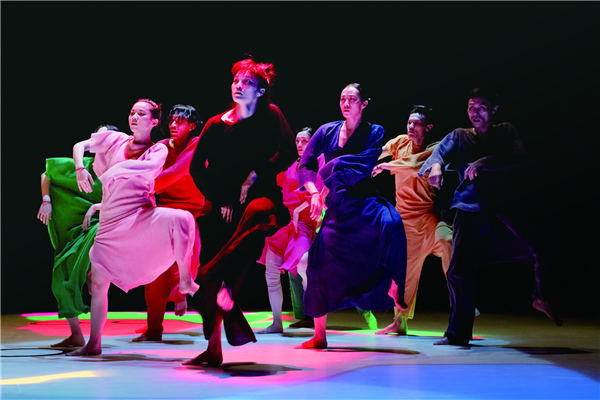 The dance Beckoning, by Taiwan dance company Cloud Gate 2, will be performed at Beijing's National Center for the Performing Arts next week. GIA TO/ FOR CHINA DAILY
On a sleepless night in early spring of 2013, standing on the balcony of his New York apartment, choreographer Cheng Tsung-lung saw the sky begin to fill with a magical blue hue. For some 20 minutes, the sun was still below the horizon but the sky started to glow.
Cheng was so fascinated by the moment and the color that he went to check out how to describe it in English. Then he got to know of the "blue hour".
It refers to the period of twilight when the sun is below the horizon and the its indirect rays take on a blue cast. The effect is caused by the shorter wavelength of blue light than that of red. During the "blue hour", red light passes straight into space while blue light is scattered in the atmosphere and therefore reaches the Earth's surface.
Artists love the romantic connotations of the time. A French saying characterizes the "blue hour" as a time of confusion and mystery, because it is impossible to determine whether it is night or day.
Cheng interprets his feeling and understanding of that moment into a dance named Blue Hour, featuring six female dancers in elegant, long black dresses, dancing to the music of John Tavener's Protecting Veil.
The dance premiered in Taipei in 2013 and will be performed by the famous Taiwan dance company Cloud Gate 2 at Beijing's National Center for the Performing Arts from Oct 22 to 24.
Cheng, as artistic director of dance troupe since 2014, will also bring his latest work Beckoning, as well as Light, choreographed by Huang Yi.
Beckoning features Taiwan's folk dancing and religious statues.