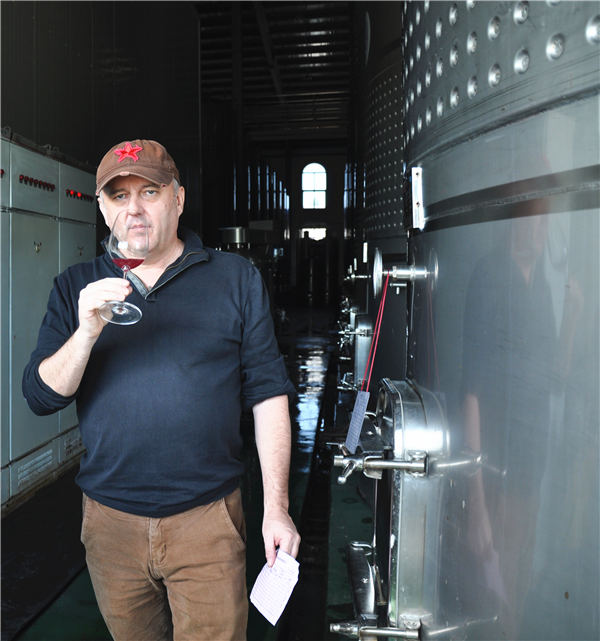 French winemaker Bruno Paumard says it's a good challenge for him to improve the image of Chinese wines. Liu Xiangrui / China Daily
Sporting a cap with a red star on it, French veteran winemaker Bruno Paumard is among the most eye-catching individuals in Wuhai - one of the few Caucasians living in the small northern Chinese city.
Since 2010, the 51-year-old has worked at Chateau Hansen in Wuhai, in the Inner Mongolia autonomous region, which he calls "paradise for grapes" because of its terrain, annual sunshine hours, and its warm days and cool nights.
Paumard hails from Angers in France's Loire Valley, a globally celebrated hub for top-level wine. Encouraged by his father, he earned a diploma in vineyard management at age 15 and later became a sommelier.
Paumard later went around Europe to look for opportunities and was a finalist in the Best Sommelier of the United Kingdom competition in 1989. Returning to his hometown in 1991, he taught wine tasting in a local school and became a winemaker.
He also was one of few experts setting prices for wine auctions in France, and he started writing books about wine tasting. One of his three published titles sold about 100,000 copies.
Paumard's romance with Chinese culture started long ago, as a childhood fan of kung fu star Bruce Lee. When he was 16, Paumard established a music band named after Genghis Khan.
Paumard didn't expect that his first visit to China, in 2005, would make him immediately decide to settle down here.
"It is all for love. You know, I am French," he says.
At the time divorced for two years, Paumard was looking for a new family. When he visited Beijing to promote wines at Year of France in China events, Paumard, who confesses that he was then unable to clearly distinguish among Asian faces, was surprised to find that many Chinese girls looked like his idol - Chinese film star Zhang Ziyi.