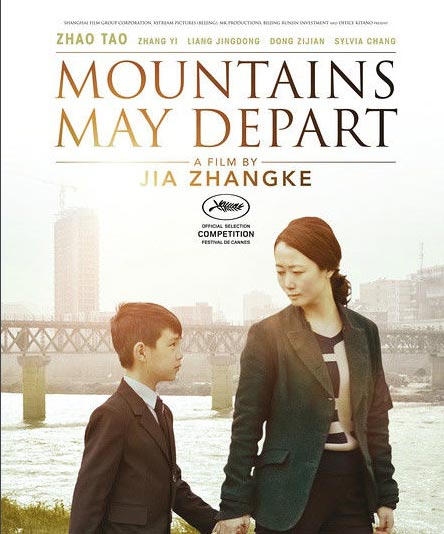 Director Jia Zhangke's Mountains May Depart will be featured at the upcoming 51st Chicago International Film Festival. [Photo/Agencies]
Four Chinese films will be shown at the 51st Chicago International Film Festival (CIFF), which kicked off Thursday night with a red carpet event to welcome celebrities and filmmakers at the Auditorium Theater in downtown Chicago.
"We have four excellent films from China," said Mimi Plauche, Programming Director, "Starting with Hou Hsiao-Hsien's The Assassin and Jia Zhangke's Mountains May Depart."
Plauche said she was delighted to have these films, which were featured at the Cannes Film Festival. There are two other films from China by emerging directors -- Underground Fragrance by Song Pengfei and In the Underground by Song Zhantao.
Mountains May Depart has been selected for the Gold Hugo International Feature Competition. The film is about a young woman's choice to marry a wealthy capitalist over a coal miner and a scattered family's chase for a vision of success over a span of more than two decades.
The Festival received more than 4,500 applications and only less than 200 films were selected, said Plauche.
"The 16 films competing for the Gold Hugo are strong and diverse," said Founder & Artistic Director Michael Kutza.
This year's international competition showcases a variety of films from Argentina, Australia, Brazil, China, Chile, Croatia, France, Israel, Iran, Japan, Mexico, the Netherlands, Poland, Romania, Britain and Uruguay.
"We are in discussion with the Beijing Film Academy to bring indie films to China," said Kutza, who is excited about the collaboration.
What is unique at this year's festival is a featured program in conjunction with the Chicago Architecture Biennial. It is called "Architecture+Space+Design."
"Architecture is an artistic field," the famed architect Helmut Jahn said. "We have a lot of buildings being featured in films."
Jahn has designed 16 buildings in the state of Illinois, including Chicago's United Airlines Terminal and the Thompson Center.
He will be featured in a conversation on architecture with Kutza this Saturday.
Jahn, who has been to China for several times, told Xinhua that his firm has an office in Shanghai and he has designed several major buildings in the Chinese cities of Shanghai, Guangzhou and Shenzhen.
"A lot of interesting things are happening in China," he said.
The film festival will run on Oct 15-29 at the AMC River East 21 in Chicago.
Related:
Team of Lost in Hong Kong thanks media for support
Wolf Totem replaced in Oscars race due to too few Chinese participation