Hairy crab, a fall specialty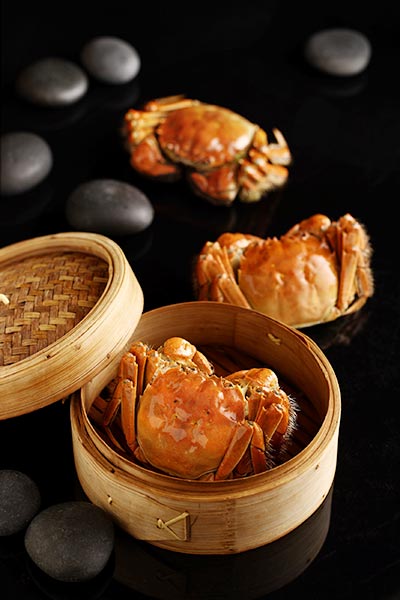 Hairy crab. [Photo provided to China Daily]
St Regis Beijing is currently hosting a hairy crab feast at its Celestial Court Chinese restaurant that runs through Nov 30.
The fall's crab season is a highlight of the gourmet calendar any year, and now is the time to enjoy the delicate meat and tasty roe of the crustacean.
Hairy crab is cooked in many ways, such as by steaming, boiling in water, by coating with flour or preserving in wine, but the most popular way among foodies is steaming, and crab feasts are often accompanied by traditional Shaoxing-style yellow rice wine from eastern China.
Just imagine the delight of tangerine crab cream, white jade-like grease and tender meat that are make up such delicacies, tasting even better when eaten dipped in vinegar and ginger powder, with intimate friends over a glass of good wine.
During this crab harvest season, the culinary team at Celestial Court selected the finest hairy crabs from the freshwater Yangcheng Lake to offer diners the distinctive taste of this fall specialty.
If you go:
11:30 am-2:30 pm, 6-10 pm. St Regis Beijing, 21 Jianguomenwai Street, Chaoyang district, Beijing. 010-6460-6688.
Related: