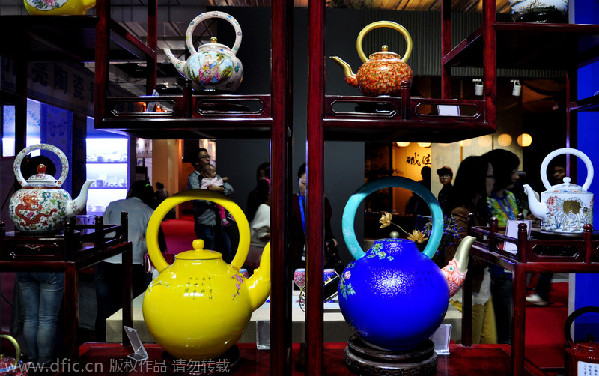 An international ceramics fair is held in Jingdezhen, Jiangxi province, Oct 18, 2014. [Photo/IC]
At the ongoing international ceramic fair in Jingdezhen, a new type of porcelain has been lauded by experts and visitors with its jade-like smoothness and translucency.
The jade-like porcelain was newly developed by Jingdezhen Porcelain and Jade Research Institute. According to the head of the institute Huang Sheming, the clay of such porcelain is mixed with jade powder, giving it its appearance.
The new composite was first produced in August.
"We have spent about 10 years in developing such a new material," he said.
Currently the main products made of this material are porcelain plate paintings and tableware.
Zhou Guozhen, professor with Jingdezhen Ceramic Institute, said, "The jade-like porcelain is a significant innovation in pottery industry and it has created a brand new painting material."
Qi Desan, editor of the magazine China Ceramics Art, said, "The new kind of porcelain resembles jade both in terms of the look and touch."
"Real jade cannot be painted since it cannot withstand high temperature and colors cannot be burned onto it. Patterns and designs can only be carved into the jade wares, while the creation of this jade-like porcelain has helped realize the combination of the beauty of jade and painting," he said.
"The firing of the jade-like porcelain has a low success rate, so its price is high comparing to other kinds of porcelain, according to Huang Sheming.