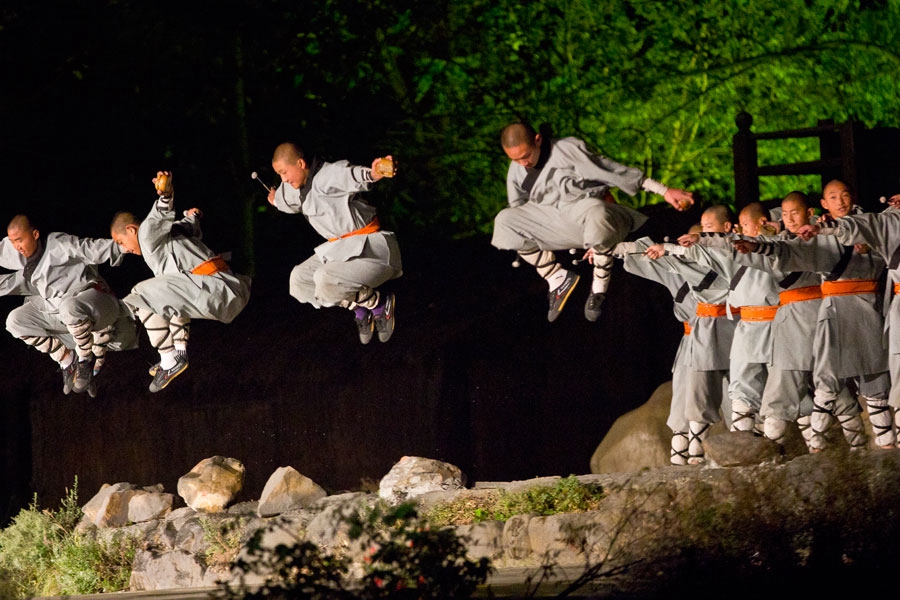 Performers leap through the air as part of the Shaolin Zen Music Ritual. The Shaolin kung fu themed dance performance takes place in Zhengzhou, Henan province. [Photo/CRIENGLISH.com]
The Shaolin Zen Music Ritual is an outdoor dance performance near Zhengzhou's Shaolin Temple, which successfully builds on the Shaolin kung fu culture. Despite the lack of a narrative plot, the show dazzles nonetheless, focusing on music, choreography, and elaborate set design.
The music is composed by Tan Dun, who won an Academy Award for creating the Crouching Tiger, Hidden Dragon sound track. The piece he created for Shaolin Zen Music Ritual features organic sounds made by water or stones, characteristic of many of his compositions. The soundtrack is luscious, although it is prerecorded. Musicianship is all mimed, though convincingly so.
Huang Doudou, the choreographer, is well-known in China for his frequent performances on the Spring Gala TV program. Allegedly over 500 players perform traditional and modern dance routines and stunts. At one point, things feel almost sci-fi, as kung fu fighters wrapped in lights, swoop across the sky, suspended from invisible lines. Even real monks are a part of the show, steadfastly meditating throughout at the stage's edge.
The stage itself is a star of the show, set before the natural mountain backdrop. Lights and effects are used creatively, while never appearing gaudy.
The show is deservedly popular with visitors to Dengfeng City and the Shaolin Temple. The only disappointment is that much of the crowd rudely packs up its bags and runs for the exit once people realize that the show is nearing its close.
Location: In Daixian Valley, 7 km away from the Shaolin Temple, 10 km away from Dengfeng City.
Showtime: 20:00 - 21:15, March 15 through to November 15.
Ticket price: 168 to 428 rmb.