Modern landscape of Zhengzhou's ancient heritage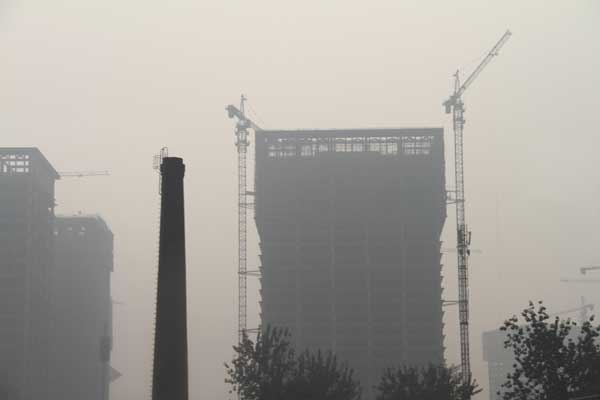 The train window offers a collection of views along the way. Here, cranes and steel rise amid the smoggy backdrop. [Photo by James Whitehead/chinadaily.com.cn]
Beijing Train Station
Flags wave in the morning air; the pale red sun hangs eastwardly over the train station. The platform signals for Zhenghou, Henan – the province where the Yellow River flows and that gave birth to Chinese civilization.
The Zhengzhou-bound train rolls out of Beijing and slowly accelerates to speeds of 300km/h. The passing of an hour thickens the air. Smog blurs the divide between sky and countryside: an out of focus lens.
Yet compressed smog soon softens and the focus sharpens. Soft shades of green, gray and brown emerge on the countryside, contrasting briefly when the sun strikes the blues and reds of metal roof panels of outhouses. White puddles sparkle in the fields.
Electricity races through suspended power lines accompanying the tracks south, meeting up at pylons and splintering east and west.
The morning sun strikes a river, drawing its shredded reflection – ripples of the water each carrying a portion of the sun.
On the Road This countryside slideshow through the train window halts as we pass under Zhengzhou train station. After stopping for Henan's famed hand-pulled huimian noodles (literally braised noodles), bowls soon empty and the bus fills.