Modern landscape of Zhengzhou's ancient heritage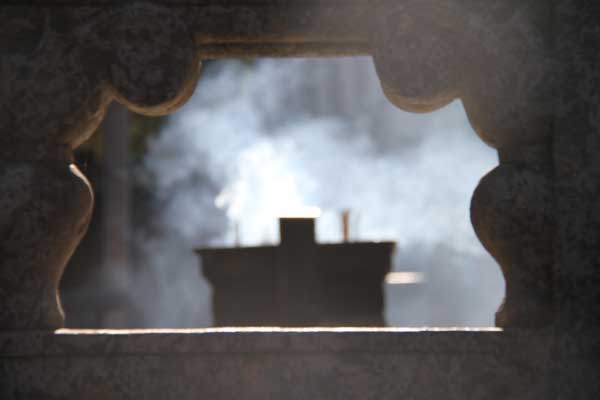 Incense rises and waves in the Shaolin Temple air. [Photo by James Whitehead/chinadaily.com.cn]
Shaolin Temple
The sun glides past the center of the sky. Noon has passed. The light strikes the right corner of the courtyard temple, throwing shade on worshipers kneeling on prayer cushions. Below the steps aligned to the temple, streams of incense wave through the air from the standing sticks of the censer.
Near the Temple entrance, an open area of 200 square meters lies in waiting. Three children take turns running after one another, with wooden swords in hand. This is the Shaolin's martial arts training square.
Sitting in the courtyard is a centuries old tree, leaning away from the path. Small holes dot the trunk from centuries of finger punching – a practice of Shaolin kung fu.
Decorating the stone skirts and banisters of the temple are chiseled kung fu cartoons, each holding martial arts poses. Despite holding historical artifacts and traditional teaching, the site of Shaolin Temple has been torched, razed and demolished endlessly throughout its deep history. During the warlord period, most of the temple was burned to the ground. Walking round modern-day Shaolin, most of its buildings are no more than 30 years old. Nonetheless, the razing and resilient reconstruction of Shaolin has been a constant through troubled times.
Pagoda forest Outside of the courtyards, a fenced garden springs a shelter of trees. Stone and brick pagodas rise and dip, like varying heights of treetops. First built during the Tang dynasty in 72AD, the forest holds 228 pagodas. Larger level pagodas represent monks with greater achievements. The diversity of shapes makes the forest a gallery of architecture throughout the dynasties.