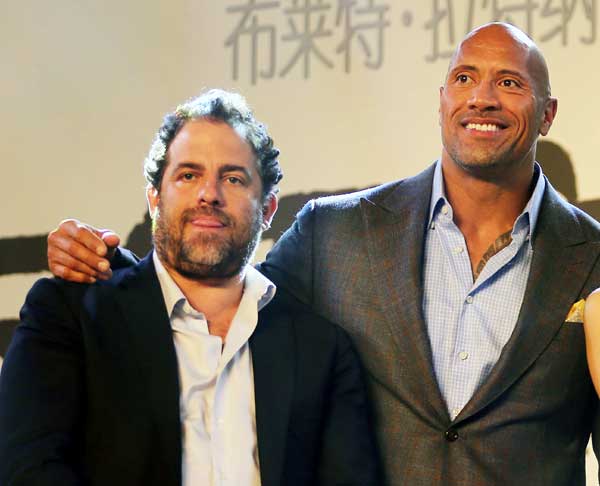 Director Brett Ratner (left) and Hercules' lead actor Dwayne Johnson promote the movie in Beijing last week. The 3-D adventure movie was released in China on Oct 21. [Photo by Jiang Dong/China Daily]
American adventure movie Hercules, released in China on Oct 21, has come to be associated more with the term 3-D than its lead actor Dwayne Johnson, known among fans as "The Rock".
Director Brett Ratner, while promoting the movie in Beijing with Johnson on Oct 16, said that Hercules was made in 3-D from the very start. It wasn't converted from a 2-D version.
For Chinese moviegoers the distinction was important.
"Please see the movie on the biggest 3-D screen possible because the movie was designed like that," says Ratner. "Unfortunately, some Hollywood movies were made in 2-D and transferred into 3-D just for Chinese audiences. I think that's wrong."
There are many Hollywood movies that cater to the Chinese market by converting them into 3-D from their original formats, given the high degree of interest with which Chinese watch 3-D films.
The sci-fi movie Lucy, starring Scarlett Johansson, was one such production that was made in 3-D only for the Chinese market, Ratner mentioned at the news conference.
China's 3-D movie market has witnessed continuous growth during the past decade.
In 2007, there were only 82 3-D screens in the country. But by 2013, the number had grown to more than 10,000.