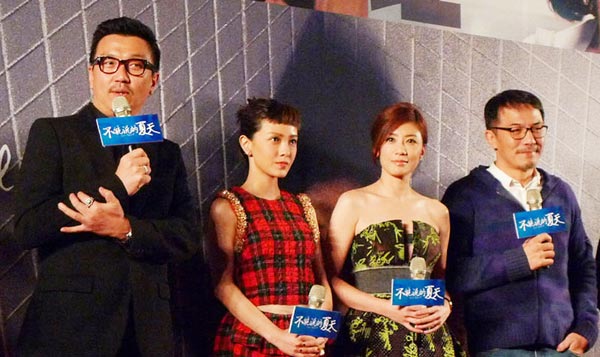 Wang Wei Ming, director of Taiwan movie 'Sex Appeal' (left) speaks at the movie's premiere at a cinema in eastern Beijing on Tuesday, October 21, 2014. The three main actors Amber Kuo (2nd from left), Alyssa Chia (2nd from right) and Leon Dai (right), promote 'Sex Appeal' ahead of a Beijing premiere. [Photo/CRIENGLISH.com]
Taiwan movie "Sex Appeal," (不能说的夏天) a campus rape accusation drama, will hit Chinese mainland cinemas this Friday.
The movie is centered around a music professor surnamed Li, who told his student, Bai Huihua, that her lack of passion for music is her biggest hurdle. The confrontation in his office results in the professor raping the student.
Following the rape, professor Li promised Bai that he would make her time at the university more comfortable under his special care.
Fully aware of professor Li's act, his wife decides to tolerate and ensure that the family stays together.
48-year old Leon Dai plays the professor. He was nominated for Best Supporting Actor of the 2014 Golden Horse Awards for his role in the movie.
He said: "Our oriental culture is very conservative. Sometimes, even though we suffer from embarrassments, we opt to be silent. The embarrassment such as extramarital affairs and triangle love is something that the involved persons would feel shamed to mention. Actually the behavior that he or she could speak about those issues they used to keep away would heal the pain of the past. Meanwhile, it would develop as a lifetime pity if one would keep locking in the embarrassment he or she has suffered."