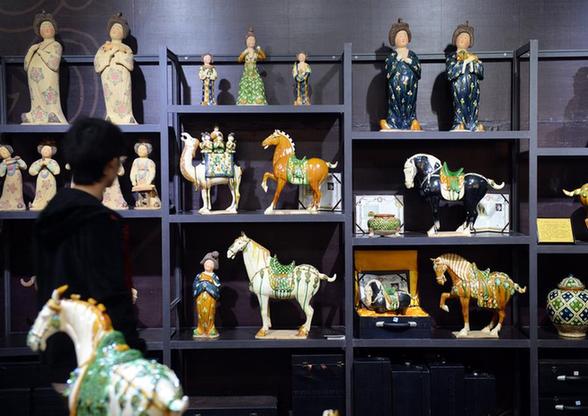 An international ceramics fair is held in Jingdezhen, Jiangxi province, Oct 18, 2014. [Photo/Xinhua]
NANCHANG - Chinese water-ink painting, brighter Western watercolors and delicate porcelain are curiously integrated in the works of American artist Philip Read, making him a focus of attention at a ceramics fair in China's porcelain capital of Jingdezhen.
Attracted by the art of ceramics, Read has been living in Jingdezhen in central China's Jiangxi province for the last four years. It is the third time he has brought his artworks to the annual event, which runs until Wednesday.
"I have a studio here and I also teach making ceramics," said Read, one of a number of specialist foreign artists plying their trade in a city that has been producing quality pottery for around 1,700 years.
"I own another studio in New York, but my works are much more popular in China, for their style is more Chinese than Western, which can be better understood by the Chinese collectors," he explained.
Thirty years ago, Read, who was then a watercolor painter, started to learn Chinese water-ink painting, and from then on, he gradually developed a unique style that combines the techniques of the two types of painting.
About 20 years ago, a trip to Jingdezhen introduced Read to the world of ceramics. "Before that trip, I was not that interested in ceramics, but after I touched the material, I realized how magical and special it was. From that point on, I started to get more and more involved in ceramics," he said.
Read sees similarities between painting on paper and ceramics. "The porcelain is as white as paper, so it can make beautiful contrast. The clay is also absorbent, just like paper, which allows me to use the same painting techniques." He prefers painting on ceramics because "the light and color of it make the painting much more beautiful."