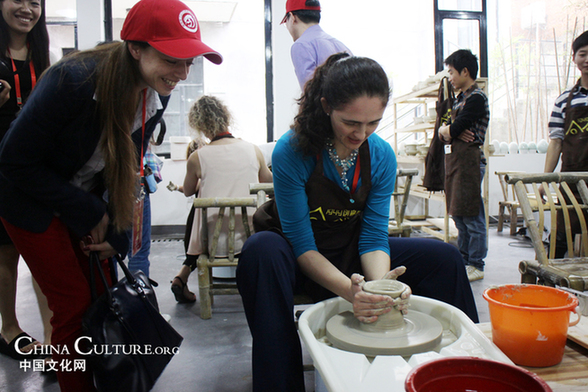 A foreign visitor tries hands-on pottery making under the guidance of an artist in Jingdezhen. [Photo provided by Bureau for External Cultural Relations, Ministry of Culture]
"The technique, concept and style of my works are all a fusion of Chinese and Western art," he said. "I have to explore Chinese culture in order to create better works, and that is one of the reasons why I chose to settle down here."
The fair has attracted companies and artists from 35 countries and regions.
Like Read, Dutch artist Adriaan Rees has also made his home in Jingdezhen.
"For the past seven years, I have been partly living in this city, making ceramics and promoting exchanges between artists in Jingdezhen and Delft, which is the ceramics capital of the Netherlands," he said.
Rees is the organizer of the World Ceramic Road, an alliance of 17 European and Asian cities which are specialized in the pottery industry.
"The member cities are encouraged to exchange their ideas and techniques," he said.
The fair has also attracted exhibitors from Japan and the Republic of Korea. Kutani ware, a style of porcelain from Japan, has been drawing attention with its exquisite craftsmanship.
According to Chinese sales agent Yuan Jiangping, Kutani ware has a history of more than 300 years, and all the products are made by small workshops in Kutani village. "It is known for using multiple colors and gold leaf printing," he said.
It is the 11th time Kutani ware has been displayed at the fair.
"More and more Chinese people are getting to know this Japanese brand, and our sales volume in China is growing year by year. Now, our annual sales volume here is more than 100 million Japanese yen ($933,400)," according to Japanese ceramics maker Nobuyuki Shimazaki.
"There is no competition between the ceramics of Jingdezhen and Kutani, since their styles are totally different," he said. "Appreciating other people's work at the fair has always been an inspiring experience to me."