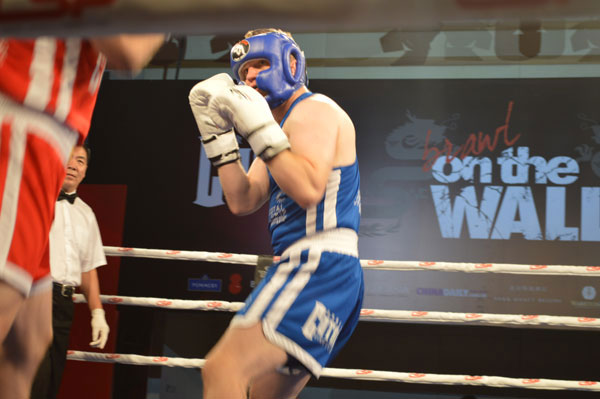 Jonathan Barlow from the UK, 39, a senior manager with PwC, is one of the 22 white collar fighters at Brawl on The Wall, a white collar boxing charity event held at the Park Hyatt in Beijing on Sept 5, 2014. [Photo by Jiang Wanjuan/chinadaily.com.cn]
People don't usually associate the white collar professions with the sport of boxing. Originating in a New York gym in the late 1980s, white collar boxing, where both male and female white collar workers train to fight on special occasions, has become an international, if not mainstream, social event.
Last week, a group of 22 white-collar professionals fought in 11 clashes at the Park Hyatt Hotel in Beijing during a glamorous black-tie charity dinner attended by around 500.
Aged between 23 to 49, the fighters' occupations range from editor, engineer, radio host to manager. As in other white collar boxing events around the world, the fighters are all amateurs and had no previous boxing experience.
Shanghai-based events company China Sports Promotions (CSP) has been organizing white collar boxing annually for over six years in China's Shanghai (as "Brawl on The Bund"), Beijing (as "Brawl on The Wall") and Macau (as "Mayhem in Macao").
Basically, any white collar professional is qualified to sign up for the CSP program, which is designed to prepare a person with zero experience to be able to fight on the stage within three months. As simple as it sounds, quite a few of the would-be fighters cannot keep up with the intensive training and have to give up.
Coach Sean Wright, 33, from Scotland, was satisfied with the result that 22 of the over 40 applicants in Beijing this year finally walked into the ring in front of the public. "It is a complex and highly skilled sport, and it's physiologically, physically and tectonically hard to learn in a short period of time," he said. "So, I am really proud of them."