With short hair and no make-up, dresses or high-heels, Wang Yue is a female boxer who gives the impression of a tough young woman whose life is full of pain and perspiration.
Born in 1996 in Changzhi, North China's Shanxi province, Wang is the only girl in her family. She grew up alongside many boys and was crazy for boxing since she was very young. She was admitted to Changzhi's sports school at 15 years old due to her good physical condition and started to chase her boxing dream.
She faced doubts and concerns from relatives who thought boxing to be too cruel for a girl. Even so, Wang gained confidence thanks to her parents' supports and made progress every year.
Wang joined the Shanxi provincial training team, consisting of over 50 excellent boxers from the whole province, in 2013. The team number was dropped from more than 50 to only nine during the past two years, leaving only the most talented and hardworking fighters. Wang is the only female boxer on the team whose performance has won recognition from her coach.
Wang's life revolves between her apartment and training base. Choosing boxing has meant giving up a normal young woman's life but she thinks everything is worthwhile as long as she can keep improving and get closer to her championship dream.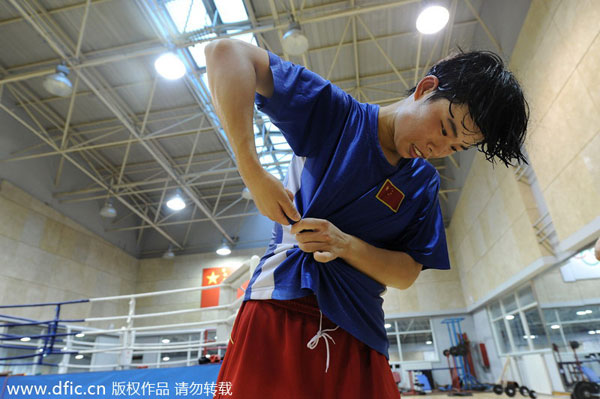 Wang's sports shirt is steeped with sweat after intense training, July 21, 2014. [Photo/IC]