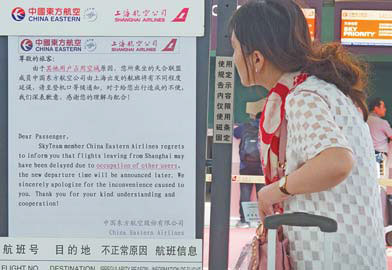 A woman reads a flight delay notice at Shanghai Hongqiao International Airport on Sunday. Gao Erqiang / China Daily
A live-fire military exercise starting in southeast coastal areas on Tuesday will have limited impact on civil aviation, the Ministry of National Defense said on Sunday.
Military and civil aviation management authorities are taking measures to minimize the exercise's impact on civilian flights by opening temporary air routes and allocating protective airspace, the ministry's information office added.
Military exercises have only a limited impact on civil aviation, according to the office. It said they are not the major factor behind recent flight delays, which were mainly the result of meteorological conditions.
The ministry's announcement followed a warning on Saturday from the maritime affairs bureau in the Guangxi Zhuang autonomous region about live-fire training that started on Saturday and ends on Friday in the Beibu Gulf. All civilian vessels are barred from the area.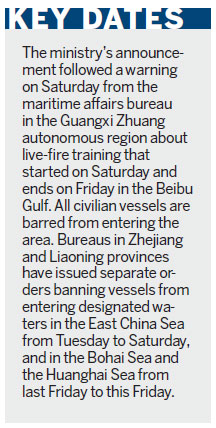 Bureaus in Zhejiang and Liaoning provinces have issued separate orders banning vessels from entering designated waters in the East China Sea from Tuesday to Saturday, and in the Bohai Sea and the Huanghai Sea from last Friday to this Friday.
Zhang Junshe, deputy director of the PLA Naval Military Studies Research Institute, said the exercises will have a minor impact on civilian flights.
"Domestic flight routes are completely outside the airspace being used for the training and will not be affected at all," he said. However, some international flights could be affected if they are due to land at airports in coastal cities while artillery exercises are taking place.
Airlines can reduce the impact by adjusting their routes away from the military exercise areas, he said.
Wang Yanan, associate editor of Aviation magazine, said the impact on civilian flights will largely depend on the scale of the exercises. He said every military command in China has a designated area for military exercise, and civilian routes do not pass through them.
Only cross-command military exercises will have an impact on certain flights approaching from the southeast. Wang said most flights will operate normally and the exercises are unlikely to cause massive delays.
However, an orange alert warning of massive flight delays in eastern and central China was issued on Saturday morning by the airline regulator, but was lifted soon afterward.
The alert, the first of its kind, said airspace in east China would be busy on Saturday, affecting at least 23 airports in Shanghai, Nanjing, Nanchang, Hefei, Zhengzhou and Wenzhou.
The Civil Aviation Administration of China later said that traffic capacity had been restored at two airports in Shanghai and that other airports affected by the alert were returning to normal.
Zhang Yi contributed to this story.