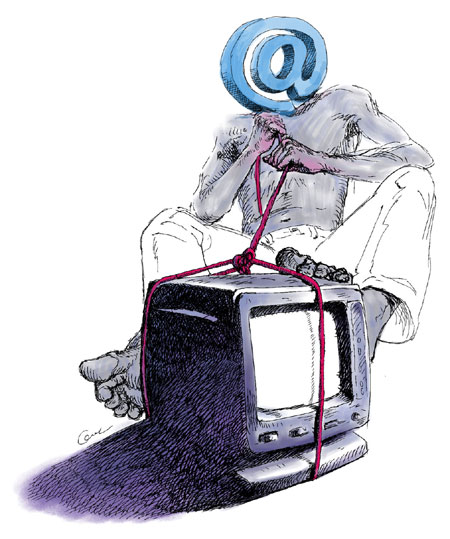 Chinese Internet TV and media devices are revolutionizing information and entertainment even as traditional counterparts face demise, Bao Wanxian reports in Tianjin.


Except during his childhood, Liu Yang, a cafe owner in Tianjin, has never found much use for a TV set.
"I thought I could get all the entertainment and shows I wanted from my laptop or iPad by visiting online video websites," said the 34-year-old.
But when the World Cup rolled out earlier this month, Liu realized he did not have a TV set to catch the matches.
Fortunately for Liu and other Chinese soccer fans, they were soon offered multiple options to enjoy the global sporting event by using the latest devices and channels like their smartphones, set-top boxes and Internet Protocol television or IPTV, in which TV services are accessed using the Internet.
Liu bought a 49-inch, 3-D IPTV set made by Xiaomi, a Chinese mobile Internet company that develops smartphones, apps and consumer electronics. It seemed like a much better choice than traditional TV sets, he said.
"It works well across multiple screen sizes. The only thing I needed to do was connect my WeChat social networking account with the set. It was easy and smooth access to all 64 games of the World Cup, the sports lottery and online games," he said.
Liu's experience highlighted the declining influence and use of traditional TV versus the huge potential of Internet-related content in one of the world's largest and fastest-growing markets. Traditional TV and its related devices and services, which have dominated most Chinese families' living rooms for the past few decades, are coming under increasing fire from mobile devices and online video sites.
The rate of residents who watched TV in Beijing alone dropped to 30 percent in 2013, from 70 percent three years ago, a report by the State Administration of Press, Publication, Radio, Film and Television, China's media watchdog, showed.
Figures released by the China Electronic Chamber of Commerce showed that in the first half of this year, sales of traditional TV sets hit less than 20 million yuan ($3.2 million), declining 15 percent from the same period last year. It marked the first drop in sales revenue in the past three decades.