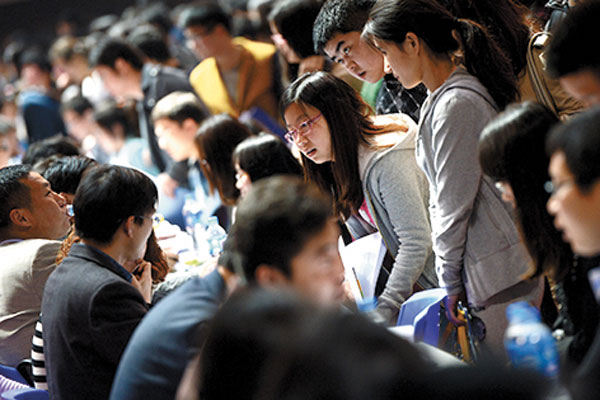 College students inquire about job opportunities during a job fair at Anhui university in Hefei, Anhui province, in April. The fair, for students who graduated in the spring, provided 5,000 positions.
Jobs at State-owned enterprises are the most attractive to Chinese university graduates, according to a report.
Thirty-six percent of university students and recent graduates consider SOEs the best employers, according to the report released on Friday by the human resources company ChinaHR.com.
From February to June, ChinaHR compiled 48,632 online questionnaires, three-quarters of them completed by college students and the rest by graduates.
The data showed that more respondents hoped to work for SOEs than any other type of employer - such as private or multinational enterprises and the government - because they were thought to be more stable and offer a clear career path.
Multinationals had previously been favored by Chinese university graduates, but, since the global economic crisis and rise of China's economy, SOEs gradually replaced them.
ChinaHR has conducted surveys of college graduates' favorite employers every year since 2002, and SOEs have ranked as No 1 since 2009.
Zhang Yajun, 27, who works for China Mobile Communication Co in Hebei province, said her company is a "stable" place to work.
"I get paid well, way better than the government jobs in Shijiazhuang (the provincial capital)," she said.
Zhang is also satisfied with the company benefits.
Zhang graduated from Nankai University in 2010 and joined China Mobile fresh from college. She has been there for four years.
"I had thought about making a change, because my salary stays the same no matter how much work I do. The company doesn't give incentives for hard work. But in Shijiazhuang, private and multinational companies are rare, and SOEs are still the best choice," Zhang said.
Wang Ke, deputy director of the human resource department at Guangzhou Automobile Group Co, said SOEs value employees' well-being more than profits.
Guangzhou Automobile is an SOE with more than 60,000 employees nationwide, he said.
China XD Electric Co, another SOE, fosters innovation among employees and offers them career path options as a strong initiative to attract prospective young talent.
Wang Lin, deputy director of human resources, said the company tries to recruit people who have the same values and goals as it does.
"We care about their personal lives as well as their performance on the job," she said.
Zhao Zifeng, director of ChinaHR.com's Research Institute, said, "Job security and stability are still the reasons that college graduates favor SOEs."
However, he added, "Private companies are becoming increasingly attractive to job seekers who have three to five years' experience".
Contact the writers at luowangshu@chinadaily.com.cn and zhengjingran@chinadaily.com.cn
Related stories:
Forum Trends: Gender discrimination while job hunting