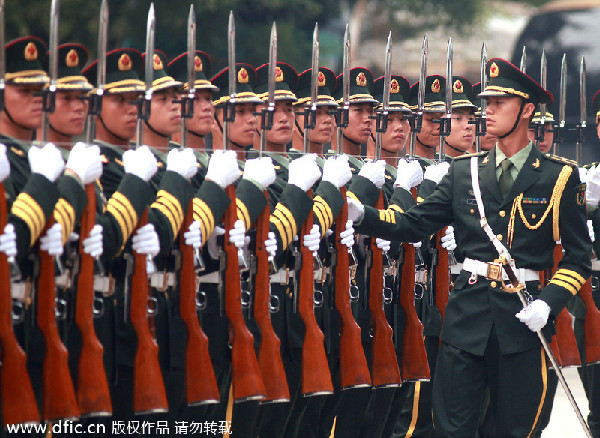 Chinese soldiers prepare to perform honor guard duties for German Chancellor Angela Merkel's welcoming ceremony at the Great Hall of the People in Beijing on July 7, 2014.[Photo/IC]
A news report that exposed cheating by army officers and soldiers in military exercises has triggered public concerns.
A total of 319 people in a brigade of the 40th Army in Shenyang Military Area Command have been punished for misbehavior.
This includes cheating during military exercises held under the newly introduced accountability supervisory system, a People's Daily report said.
Sunday's report said that two battalion commanders and a deputy battalion chief had been removed from their posts on allegations of dereliction of duty; promotion had been halted for 11 officers; and 39 officers and soldiers did not collect their annual bonus for failing to obtain 80 points in the military theory tests.
In one case, three soldiers were punished for taking insufficient equipment with them during a military training exercise. Each has to carry at least 7.4 kg of equipment including weapons, a raincoat, gas mask and a canteen, but the three abandoned some of these to ease their burden.
Xing Yuanming, the brigade commander, told the newspaper some military officers only chanted slogans but seldom participated actively in training, and such practices had been banned during recent training.
The report triggered public discussion on Sunday, with many Internet users expressing their fears.
"Such fraud is horrible. Who could believe that such a cheating force could protect the country - our homeland?" a netizen commented on the 163.com portal, drawing more than 5,000 clicks on its "like" button. A netizen claiming to be a former artillery soldier said that during a military exercise they used to fix remote-controlled TNT on their targeted drone aircraft. This comment drew more than 200 "likes". Some of the Internet users also voiced support for strict measures to be taken against those who cheat in military drills. "It's a wise practice to crack down on fraudulent activities in military exercises. If these cases are not prohibited, national security will be placed in danger," one netizen said on weibo.com.
A captain in the Jinan Military Area Command said their military exercises had become more practical than previously.
"We were told that the purpose of military exercises is to win the real war and that cheating was not allowed," said the officer, who declined to be identified.
In March, the Central Military Commission issued a guideline saying that military exercises should be toughened to ensure that the armed forces could win a real war.
anbaijie@chinadaily.com.cn