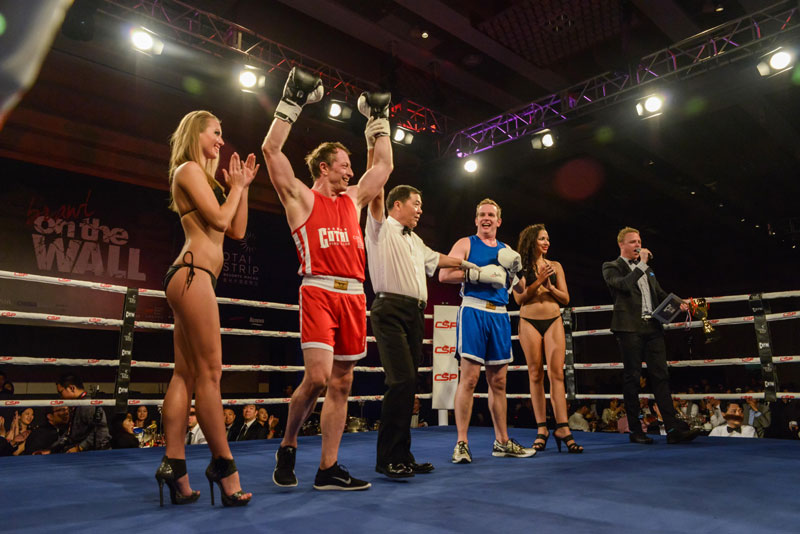 Tomas Ermolaev (in red) defeats his opponents at Brawl on The Wall, a white collar boxing event held at the Park Hyatt in Beijing last Friday. [Photo by Aaron Berkovich/For chinadaily.com.cn]
A group of 22 working professionals fought in a charity white collar boxing in Beijing last week, and 49-year-old Tomas Ermolaev from Russia was the oldest player.
With no previous boxing experience, Ermolaev, Head of Security with Audi China, not only kept up well with the three-month intense training prior to the fight, but also defeated his opponent, who was 10 years younger.
Ermolaev's motivation to win the fight was to improve his fitness, and he believes that people can be fit at any stage in their life.
"It's difficult for people over 50 to keep up with the fitness, because they lose hope, and this is not the case," he said. "The fact is that, you can do it. I am training with people who are half of my age. I am keeping up with them. People between 50 and 70 can be as fit as people who are much younger."
Besides regular group training provided by the organizer, Ermolaev also hired a personal coach to train him four times a week, for two hours each time. He laughed it was not cheating, but doing extra work to even out the age disadvantage.
He said he would like to keep on boxing until he is 70.