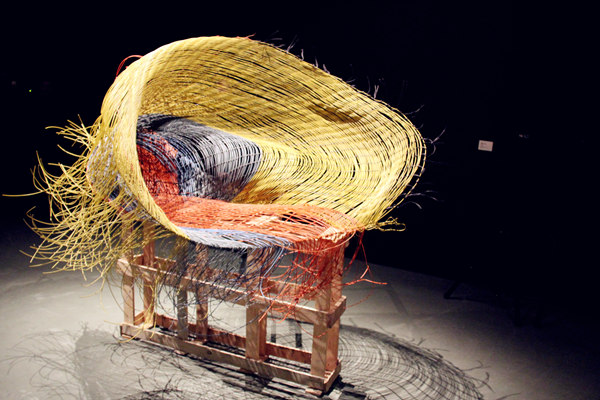 One of the works on display at Yishu8, created by Li Ying, from the sculpture department, CAFA. [Photo by Yu Yao/chinadaily.com.cn]
The 2nd Yishu 8 China Award ceremony was held at Beijing's Yishu 8 on February 26.
At the end of the ceremony, Li Ying, from the sculpture department of the China Central Academy of Fine Arts (CAFA), and Peng Yong, from the painting and engraving department of CAFA, were announced as the winners by Catherine Tsekenis, director of the Hermes Foundation.
These two emerging artists will be provided with studio spaces in Beijing and Paris, and will later have their own exhibitions at Yishu 8.
"2014 is a symbolic year for Sino-French relations," said Christine Cayol, founder of Yishu 8, and Knight Badge recipient. "The Yishu 8 China Award constructs an international bridge that connects China and France and shows the support and attention given by France to Chinese contemporary art," she said.
One member of the jury committee, Tan Ping, vice president of CAFA, said, "Compared to other well-known awards, this event only focuses on advanced students who are in their final year, and that makes this award more unique and valuable."
The art event, presented yearly, is sponsored by the Hermes Foundation. Throughout the event, Yishu 8 selected a group of eight young artists from CAFA to show their work in the former auditorium of the university, against the background of a century-old building.
From this group, two students were then selected for awards, which will provide them inspiration from the spirit of the Yishu 8 as they benefit from having a studio, and then later from holding their own solo show.
Related Stories:
Cultures collide in Yishu8 art center
Yishu 8 founder awarded French Knight Badge
Yishu 8 Award encourages budding Chinese artists