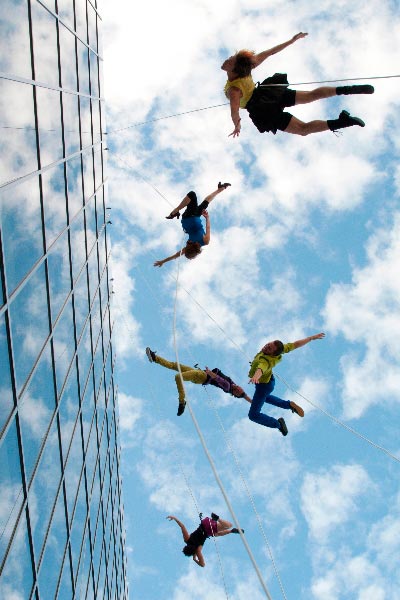 The performance of Bandaloop is one of the highlights of this year's Shanghai arts festival. [Photo provided to China Daily]
Shanghai's efforts to bring art to the people are paying off, as more than 4 million people are expected to participate in the ongoing China Shanghai International Arts Festival.
The 17th annual festival runs through Nov 16, with 46 performance projects and 10 exhibitions around the city, with a majority of the artists coming from abroad.
More than half of the performing companies scheduled to give formal shows in theaters and opera houses at the festival will also perform at some public spaces during their stay in Shanghai. This is part of an annual initiative, Art Space, launched last year within the festival's framework to introduce art to a wider public, especially those who can't afford theater tickets or can't attend such a venue.
Theater performances are expected to have a total audience of 150,000, and the community-outreach events could be seen by 2 million, says Liu Wenguo, artistic director of the festival.
Also, hundreds of cultural performances will take place in the 17 districts and counties of downtown and suburban Shanghai, potentially pushing the total number of people seeing one or more festival events to 4 million.
"These free public performances have raised people's interest in art," Liu says.
He compared the free outdoor performances of Art Space to "free sampling" in promotions of the retail industry. "They don't hold people back from buying tickets to the theater-instead, after the exposure to art, they are more likely to become intrigued and buy tickets to the theater show."
A US company's debut performance of Bandaloop in China at the Kerry Center compound in Jing'an district kicked off the Art Space series on Oct 15.
Bandaloop is a "vertical dance performance", where dancers turn the dance floor on its side. The company is based in San Francisco, and founder Amelia Rudolph used to say that the company's performance is "life-affirming" rather than "death-defying".