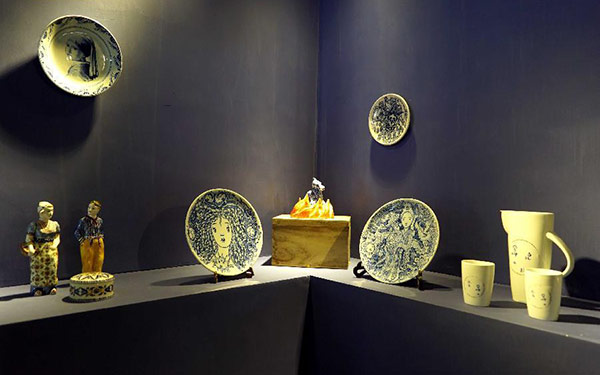 Photo taken on Oct 18, 2015 shows exhibits at the 2015 China Jingdezhen International Ceramic Expo in Jingdezhen, East China's Jiangxi province. [Photo/Xinhua]
From November, Jingdezhen, a town in Jiangxi province with a thousand years of history as a center of porcelain-making, will become home to China's first "ceramics exchange".
Dealing in artwork, raw materials and equities, the exchange will set out to sharpen the commercial edge of Jingdezhen by bringing traditionally offline art deals online. It is hoped that the exchange will post an aggregate turnover of 50 billion yuan (about $ 8 billion) and create 100,000 jobs within five years.
RESHAPING CERAMICS
On the sidelines of the ongoing 2015 Jingdezhen International Ceramics Fair, Zhou Jun, who will run the exchange, predicted it would transform China's ceramics industry. "We have established goals and we are confident of achieving them," he said.
Zhou is also president of the Nanjing culture and art assets exchange. In only two years, he and his team have made remarkable progress in Nanjing, where the emphasis is on philately and numismatics. The exchange has been known to turn over more than 100 million yuan in a single day.
"Compared to stamps and coins, ceramics have even greater market potential," said Zhou, "Currently, the price of art ceramics is determined by offline negotiation. When trade volume rises, the exchange will play a prominent role in pricing."
With per-capita GDP approaching $8,000, investment in artwork -- a traditional practice of China's moneyed classes -- is on the up. When it comes to porcelain, authentication is a perennial difficulty for casual investors, along with forbiddingly high prices.
Once the ceramics trade moves online, Zhou believes that routine professional authentication will follow. Investors will also be able to either possess artworks in person or keep them at depositories as a pure investment in advance of future trade.
Nanjing University has reached a primary agreement with an American business school to train exchange staff. The first course will be open to 40 students, with half of them coming from China.
Other initiatives include 50 centers dedicated to development of technical standards for raw materials, a logistics company specializing in ceramics and warehouses in Beijing, Shanghai, Guangzhou and southwest China.
"There are thousands of ceramics companies scattered throughout Jingdezhen. The exchange can be the thread that strings these companies together," said Zhou. Current e-commerce in the city is primarily limited to household porcelain. Competition is fierce and profits are thin.