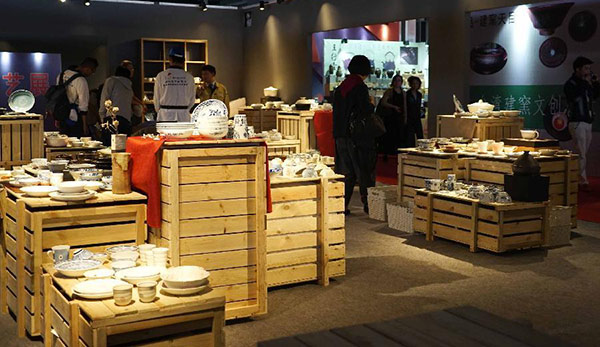 Visitors view exhibits at the 2015 China Jingdezhen International Ceramic Expo in Jingdezhen, East China's Jiangxi province, Oct 18, 2015. [Photo/Xinhua]
FEAT OF CLAY
Wang Gaoli is a dealer in Shapiqing clay, raw material for the famous dark red Yixing teapot. The clay is extracted from Huanglong, a mineral found only in a 2.5-square-km area in Jiangxi's Dingshan County. Exploitation of Huanglong was banned in 2005, ostensibly to protect the resource, but resulting in a drastic price hike from 10 yuan per kilogram to more than 1,000 yuan. Potters everywhere began to use fake or synthetic chemical clay, seriously disrupting the market.
Simulated trade at the exchange began on Sunday, and Wang put Shapiqing clay on sale in hope of establishing the true value of the authentic raw material through the fledgling market.
"Chinese people love to buy gold, the price of which has only doubled in the past decade. It is time to provide options for investors to channel capital into manufacturing," he said.
AN EMPIRICAL TRADITION
Wei Chuanzhong, president of the Chinese Society of Inspection and Quarantine, sees the challenge of authentication looming large. He attributes the success of the Nanjing exchange partly to specific laws on counterfeit stamps and coins. "The legal framework is much weaker when it comes to ceramics and other artwork," he said.
What compounds the challenge, as he noted, is the tradition of empirical artwork authentication: Accuracy of authentication largely depends on the knowledge, experience and morals of the appraiser. With forgers using all possible technology to duplicate for profit, fakes might go undetected. The solution, Wei believes, is to make science and technology the keystone of authenticity, with "expert opinion" an optional extra.
Considering no Chinese college provides scientific artwork authentication courses, Wei has been consulting with American experts, hoping to use overseas experience in forensics to combine laboratory tests and physical evidence with expert judgment.
"Without accurate authentication, intellectual property cannot be protected, investor interest will be jeopardized and public trust compromised," he said.
Along with the Chinese Society of Inspection and Quarantine, Wei and his team plan to establish a ceramics laboratory to study authentication standards.