UK's 007 meets Beijing's 798 Art Zone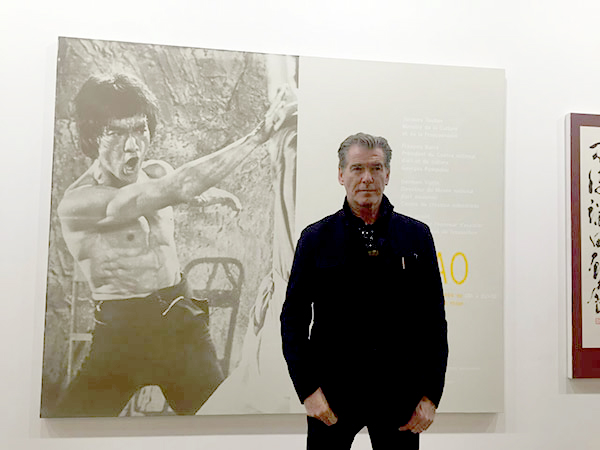 Brosnan stands in front of his favorite painting, Carton d'Invitation, 1994, from David Diao's solo exhibition at UCCA.[Photo provided to Chinadaily.com.cn]
When James Bond enters a room, he grabs everyone's immediate attention, including Ullens Center for Contemporary Art (UCCA) visitor experience specialist Ariel Zhu.
"At first I tried to stay as professional as I could. But after that, I was super-thrilled because he's such a big movie star. I mean come on, he's Mr. 007," says Zhu of meeting Pierce Brosnan Saturday morning.
Most museum visitors who were lucky enough to get a glimpse of the actor best known as Agent 007 kept their composure, avoiding any celebrity mobbing.
Brosnan is in Beijing shooting a car commercial for BMW, but decided to take in some of Beijing's art culture by spending this morning in the 798 Art Zone. His curiosity for Beijing's art scene led him to view contemporary American artist David Diao's solo exhibition at UCCA.
According to the actor's website, Brosnan was trained as a commercial artist and, after he left school, he pursued a career in art and began working as an illustrator.
"I always wanted to be an artist, a painter. I started as a Trainee Artist in a small studio in South London. I am self-taught, an enthusiastic painter as a friend of mine likes to say," Brosnan says on the website.
In 1987, eight years before his first role as James Bond in GoldenEye, Brosnan finished his first painting, titled First Painting. Since then, many of his paintings have been influenced by the colorful cultures of Central America and his wife, Keely Shaye Smith; to whom he's dedicated four of his paintings.
Charlize Lin, UCCA business assistant to the CEO, spoke with Brosnan about art culture in China.
"He was really interested in knowing the differences between the art culture in Beijing and the art culture in Shanghai. You can tell he's really knows a lot about the industry. But it was his curiosity for the art scene here in Beijing that brought him to the 798 district."
Lin accompanied Brosnan through the 798 Art Zone, where he glanced at a few galleries, but spent most of his time at UCCA.
"His schedule was really tight. But he spent nearly an hour at UCCA, about half an hour at David Diao's solo exhibition and half an hour at the UCCA store. We are an institution that takes pride in hosting all of our guests. UCCA always has first-class exhibitions so that brings first-class viewers. It's great to see someone with a bright artistic mind like Brosnan take in the artistic vision that UCCA stands for," Lin said.
Brosnan concluded his visit with a post for his 187,000 followers on Instagram, saying, "just flew into Beijing ...and the 798 District ... Thank you all for the beautiful art ...rave on."