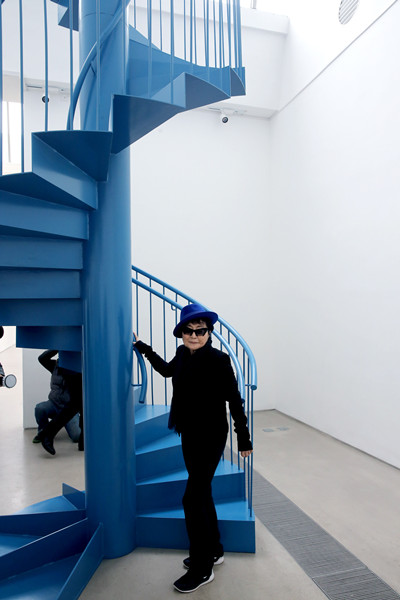 Yoko Ono poses with her work, To See the Sky, at her solo show in Beijing. [Photo by Jiang Dong/China Daily]
The 82-year-old conceptual artist and singer Yoko Ono was in Beijing late last week for her exhibition Golden Ladders, which is being held at a Faurschou Foundation gallery in the city's 798 art district.
In her signature black clothes, complete with a pair of dark sunglasses and a hat tilted to the right side of her head, the Japanese-born widow of British pop legend John Lennon reminded her fans that she was still full of energy.
On Nov 16, Ono produced an "action painting" and engaged in a conversation with Chinese contemporary artist Xu Bing at the Central Academy of Fine Arts. She calligraphed 10 Chinese characters on a board that included messages such as "the world's people unite" and "blessings".
She also performed her famous scream session that she usually describes as "the voice of a woman", but which has annoyed her critics in the past.
In addition, she "roared" at a media conference in Beijing a few days ago.