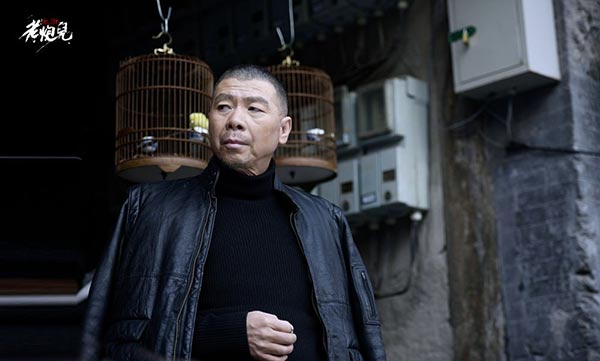 A screen capture of Feng Xiaogang in Mr. Six. [Photo/Mtime]
Cannes-winning director Hou Hsiao-Hsien's film
The Assassin
led the race with 11 nominations at the 52nd Golden Horse Awards, Asia's equivalent to the Oscars.
The Assassin is nominated for 11 awards, including best screenplay, best director and best actress for lead actress Hsu Chi. Director Chang Tso-Chi's film Thanatos, Drunk, a story about two brothers' struggle with the heavy burden from their overbearing mother, is nominated for ten awards. Director Jia Zhangke's Mountains May Depart was nominated for best screenplay. Jia was awarded a Carrosse d'Or award at the 2015 Cannes Film Festival in May.
The biggest surprise came as director Feng Xiaogang, who has directed many works including 1942 and If You Are The One, was nominated for a best actor award for his performance in Guan Hu's Mr. Six. When the film was shown in Venice, Feng's performance was a pleasant surprise for both media from home and abroad. Other nominees include Deng Chao in The Dead End and newcomer Dong Zijian in Delan.
Actresses Karena Lam of Zinnia Flower, Sylvia Chang of Office, Zhao Tao of Mountains May Depart, and Vivian Sung of My Girlhood are nominated for the best actress award alongside Hsu Chi. Domestic animation Monkey King: Hero is Back and Hong-Kong production McDull: Me & my mum are up for best animated feature.
Hou will be awarded "outstanding film worker in Taiwan" at the award ceremony for his contribution in the art of filmmaking over the years. In particular, with a work like The Assassin, he has brought the films of Taiwan onto the international stage and set a new benchmark for creativity. The award committee views awarding him not as adding another laurel to his already long list of achievements, but as a way to pay respect to all he has done.
According the latest release from the awards committee, singers Eason Chan and Rainie Yang will be invited as performing guests at the award ceremony.
A total of 427 works, a record high, were submitted this year. The 52nd Golden Horse Awards will be held on Nov 21.
Related:
Chinese film 'Mr. Six' premieres in Toronto