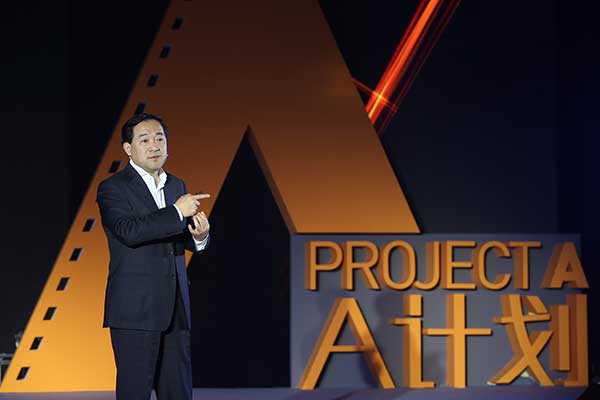 Designed to help both domestic and foreign filmmakers, the company named its effort Project A.[Photo provided to China Daily]
Zhou Tong, in his early 20s, so far had only his girlfriend's moral support and his mother's money to make short films on tight budgets.
But now he thinks Chinese filmmakers, especially aspiring ones, may see better days.
Zhou's confidence comes from Alibaba Pictures' recent announcement that it will provide 1 billion yuan ($158 million) in funds for young filmmakers in the next three years.
Designed to help both domestic and foreign filmmakers, the company named its effort Project A, according to Zhang Qiang, CEO, Alibaba Pictures.
The funds are open to Chinese and foreign filmmakers age 45 or below. The project includes work opportunities under three mentors: Anthony LaMolinara, who won an Oscar for special effects in 2005 for Spider-Man 2; Renny Harlin, the director of Die Hard 2; and Zhang Yibai, a popular Chinese director known for his college romance Fleet of Time.
"We hope to nurture our own directors of blockbuster films by first letting them work with masters on coproductions," Zhang Qiang said at a press conference in Beijing. "In series movies, we could probably produce the third, fourth installments on our own after the apprenticeship."
The company also hopes to grow the market for comedy films by developing an incubator that would have young directors experimenting with short films to be released on Youku.com and Tudou.com, popular Chinese online video sites. The popular short films among them would then get a chance to be made for the cinemas.
"We are paying special attention to filmmakers born after 1985," Zhang Qiang says. "We consider comedy very important. Light, humorous films will be our feature."
As the project conveys the company's assessment of the domestic film market, entry requirements for applicants include social values and being technologically savvy.
"We want them to share the same mainstream, positive values, and make happy films that are good for the whole family to watch together," the CEO says. "We found that films that display such values often perform very well in the box office, too."
For Chinese films to become truly international, they have to be able to use technology well, he adds.
China's box-office revenues touched 33 billion yuan in the first three quarters of the year, around 60 percent of the number came from local films.
"For a market of such potential, we need our own talent pool," he says.
Zhou, the aspiring director, therefore hopes to make more comedies in the future.
He has a few short films to his credit and was part of the publicity team for Breakup Guru, a romantic Chinese full-length feature from last year.
"Our works can reach audiences in more forms and on platforms that we didn't have earlier," he says. "That's why it may be the best time for us young filmmakers."